My office looks like the office of most designers, full of books, magazines, graphic snippets and ephemera. I am a graphic design hoarder. As a product designer and content creator I have to stay creative and like most designers in the beginning I scoured these resources of design history to learn my craft whether in publishing when I worked in ad design or later in branding. Today I rarely use them but instead find my inspiration by watching everyday people create or watching small entrepreneurs as they build their business and audience. As large companies struggle to stay relevant this new frontier is where all the creative action is and their organic growth in numbers is staggering. Most attain their growth with very little in polish and production and yet they attract millions of views, subscribers, followers and buyers. Many reach viewership in millions, many times the reach of television.
Their secret is authenticity. There are companies who utilize this organic avenue of power to attract buyers but by and large they are not the main focus. It is all overseen and run by the tech giants who are savvy enough to funnel the largesse of this revenue in to their own pockets along the way by making it seem as though these new media streams are the new business model but in reality these content streams are crucial to sustaining their own business model. Google wouldn't be Google without new content, they would quickly become as empty as an archival library full of dusty books. The same goes for all social media. YouTube wouldn't be YouTube without the home video creator. It is this authenticity that attracts me and allows me to focus on how to create products and a business model that will help someone like them grow their brand within this new frontier without getting lost in the process. The audience should be directed back to their brand by using media streams as a spoke in the wheel, not merely to keep the wheel spinning.
I often spend an hour or two watching these creators just for inspiration and they never fail to inspire my own projects.
One of these creators I often watch is Rosemarie Arechederra McKenna. Her ability to upcycle, recycle and create something beautiful from the paper junk drawer is truly remarkable and she is quite talented. Her videos are not slick, over edited or staged. You can hear the door squeaking, the dog barking and she often forgets a needed item for her project video and has to quickly improvise but all of that is part of her charm and why I enjoy watching her. I wouldn't change a thing about her style. When they get slick and overproduced I generally lose interest because the essence is gone and that authenticity is lost. I always feel some conglomerate swooped in to advise a popular YouTuber like a studio boss, and did a makeover. Some then become beholden to their affiliates and forget their original attractiveness. Someone should teach them how to keep their essence and still grow but I guess that is a post for another day. 
 Another one I recently watched is from Do What You Love about making a Valentine Flip Book, out of envelopes and items from Dollar Tree. I had no idea what a flip book or a junk journal was or that one could be made out of envelopes. I don't personally journal or make scrapbooks or any of that. People just love to create and I love watching this inventive creativity to spark my own creativity because it does a lot more for me than thumbing through design books which are often full of re-tread design movements that stay embedded for years. Who isn't tired of grunge by now?
What follows are some examples of how these home creators inspired one of my latest products, Paper Snowmen and it literally started with a sheet of paper because like all of them I have my own paper stacks to utilize. Paper that I just love and use often. I like the color and texture and it reminds me of a vintage book, old prints and brings back memories of sitting at the table as a child and making something out of a brown paper bag. I am also reminded of my own paper junk drawer and how I used little scraps of favorite Christmas wrapping paper to decoupage ornaments just because I wanted to do something with them and keep enjoying them year after year instead of just stacking them in a box that never gets opened. Those little scraps held memories and to this day they warm my heart when I open that box of home made ornaments, they are nostalgic, like a favorite quilt.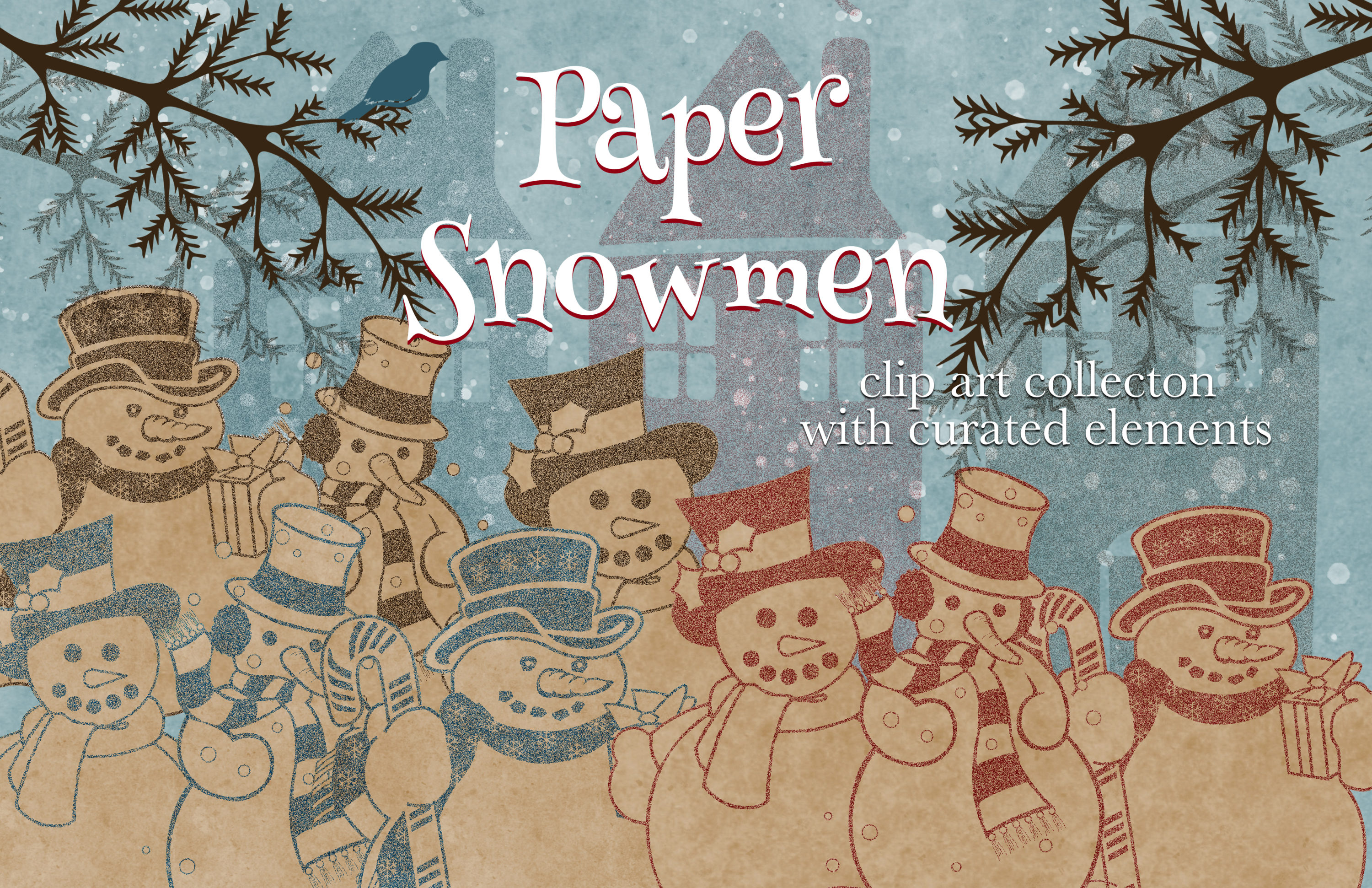 What can you do with a paper snowman?
Since I was also inspired by another video of 2019 Christmas creations I decided to use my favorite paper to create snowmen. I quickly gathered some black and white snowmen from my personal clip art collection but I never use clip art or photos without some modification and I wanted this to look one color vintage print. I also always carefully choose elements that complement my main components so in this instance I chose what is most natural to a snowman, a row of houses, front yard trees and snowflakes that weren't perfect but had a cut-out look. 
I also can't think of snowmen without thinking of my daughter reciting The Snowman as a toddler. "Here it comes again from the other side", speaking of the sun. I also think of her and her Dad making a Calvin And Hobbes, dead snowman, in the front yard so snowmen are a favorite choice because they lend themselves to a lot of creativity.
Here is an example of a card that most people might use this collection to create.
In case you are wondering, yes I can draw, paint, photograph and do hand lettering and even though I am thrilled that hand made creations are making a huge comeback today in the anti pixel revolution, I usually choose to create commercial art with commercial art and digitally manipulate to create something new. I also enjoy the challenge of re-creating art and print techniques of yesteryear digitally. I am used to working with tight deadlines so this ability is a craft that I like to keep learning and I save the home made projects for my own relax time and no longer mix business with pleasure. I found in the past that my own art suffered by trying to be an artist on demand and eventually I just quit for a long time, it was no longer fun as I turned something that I loved in to a job, big mistake. I was an award winning watercolorist and sold paintings nationwide before embarking on a career in graphic design. I studied art for probably 20 years or more before making that career decision to focus on graphic design and branding and this way I still get to do what I love which is create but also the perfect blend of both because I never forget it is a job with a purpose and that purpose is commerce. Therefore, there is no conflict. It remains both fun and challenging and I would get bored maintaining a 'style' in commercial art. I don't see commercial art as personal because it has both a form and a function and I can just throw it out the window if I don't like it unlike a painting I slaved over for days or weeks. It actually forces me to be more creative and why I choose many outlets to gather inspirational ideas.
My job is to help people sculpt their own style out of their own head and bring it to life and greater potential so it is not personal.
Next I might use the png images as a background for an elementor section in WordPress. These images can also be arranged and used for a page background or any illustration in blogs or printed pages as they are always created in high resolution.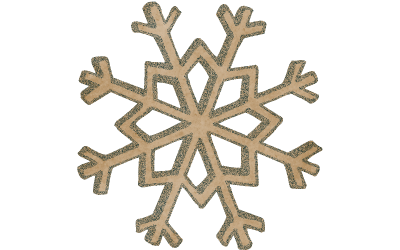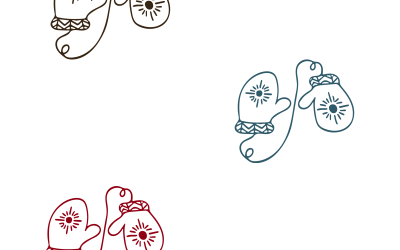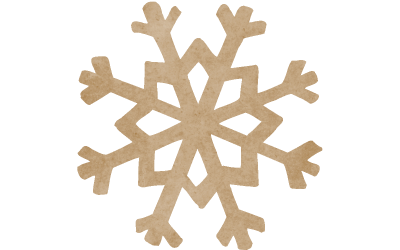 A FB cover advertising the start of the ski season. These elements can be used over and over for self published products. I created this cover in about twenty minutes. All it takes is an image to spur an idea for a local business in a clever way to capture the attention of their page followers and social media can be changed often at little cost. 
Just by choosing curated elements that complement my main components it only takes a short while to create a range of self published products. They can be used for print products to page enhancements to ads. Remember always begin with a CC0 or copyright free and then just use that for inspiration as a starting point. Curation is about building blocks to ensure a well designed finished piece and what creator doesn't like building blocks? Much like a scrapbook paper stack, curated elements should be chosen to complement each other but still allow a lot of creative freedom.
By following home based creators I usually never fail to create an inspired product or get an idea to help small business market their products in digital self publishing. 
These kitchen table creators are a great inspiration to me whether they choose to become a small business that grows with their audience or just work on their favorite craft projects to relax and share their ideas in videos. I am always inspired to get busy the next day creating products that will help inspire other creators to make something new and to teach valuable lessons on how to unleash that creativity in the actual marketplace. I like helping any business take the next steps to a commercial and profitable venture in this new frontier.
Espresso Press was created with them in mind since I know most business begins at the home table over a nice cup of hot coffee and is sparked by a small idea and the desire to create something. I also don't fret that this new frontier is changing my own industry, it helps people attain what was formerly out of reach for most and it forces adaptation in the marketplace, never a bad idea because it is the birthplace of invention and innovation. I never tire watching what transpires from that spirit of innovation and creativity.
If posts like this inspire you, sign up for my new newsletter today to get notifications of new posts, helpful advice and tutorials on creativity and more.
What Can We Create?
Local service areas:
DuBois, Pa. 15801
State College, Pa. 
Pittsburgh, Pa.
Email Today