High Value Brand Asset - Consistency
A brand asset is one of many facets that comprise brand value bringing equity to the brand.
Consistency is one brand asset that can bring high value to a brand.There are two kinds of consistency. Long term consistency and integrated consistency. Both are important. 
Long term consistency relates to a brand personality. If your brand changes personality every few years the brand risks having no image at all. What is Canada Dry? Marlboro on the other hand suffers no such confusion and after decades of consistent messaging it has ascended to market dominance, even retaining value after the demise of the face of the brand, the iconic Marlboro man. It is familiar and unchanging and has achieved long term consistency.
A few years in to building a brand a strong grip is needed to avoid veering in to 'change' mentality. Just because an agent is tired of doing the same old thing doesn't mean the brand has penetrated  the minds of the target audience. 
The imaginary brand Boho created from Boho Bohemian Designer Kit, used in the following brand asset demonstrations. Designer Kits from Espresso Press enable hundreds of merchandise creations.
In this example integrated consistency through packaging and public relations is reached through the choice of materials, paper tubes, eco friendly choices that resonate with this brand's consumers. 
Mockup provided by Anthony Boyd
Integrated consistency spans promotion, packaging, advertising and public relations.
This consistency can be eroded by multiple design or marketing agents who aren't on the same page. They each pursue their own vision, losing the single focus that successful branding demands and rewards.
In design, consistency can be reached via multiple fronts and is achieved via a brand handbook. In advertising and promotion an overall brand image campaign blueprint is helpful.  
Public relations can encompass vast areas but it should also remain consistent to the brand and all teams should be on point so as not to lose brand vision focus or creative direction.
Color choices, design elements and style all help to keep brand design consistent.
In this brand product consistency is reached via limited color choices, one palette, similar in value, just a few repeated elements and used on natural, casual, inexpensive and eco friendly packaging choices.
Bohemian style in graphic design is a longstanding design trend that spans a century. While this design trend re-emerges nearly every decade or so some things remain constant, it appeals to artists and those who are unconventional. It is also strongly associated with poverty, re-use, recycle, upcycle etc. It relies heavily on borrowing from various periods, cultures and a mix/match approach to design. It is also associated with a gypsy lifestyle and approach to fashion. Color palettes associated with this style have a broad range. Futuristic, plastic or most other modern elements are not complementary to bohemian style.
One of the benefits of designer kits as offered at Espresso Press, elements are carefully curated to achieve design consistency in the finished product while still allowing for creativity. 
Design Consistency In Advertising and Promotion
For the BoHo brand design consistency in advertising would achieve great impact through the store experience and atmosphere and would rely heavily on consumers. The target audience wouldn't mind being an advertisement for this brand and the 'logo' can be used as display on several products, including tote bags, apparel, posters and other merchandise that would appeal to this audience.
The BoHo advertising or promotional campaign might also rely heavily on handmade design, silk screen, handmade prints, posters etc. strategically placed or offered to attract the core consumer base.
Consistency is a brand asset that is high on the list of brand values. Achieving long term consistency is what propels brands to market dominance. Integrated consistency gives target consumers or audiences both confidence and reassurance which helps build brand recognition and loyalty.
Both long term consistency and integrated consistency rely heavily on design choices.
A well thought out brand strategy can help any brand avoid the pitfalls of change for change sake and losing brand mission focus through scattered and piecemeal approaches in brand direction. 
What choices in brand personality, design, packaging, public relations, advertising and promotion can you make to build long term and integrated brand consistency?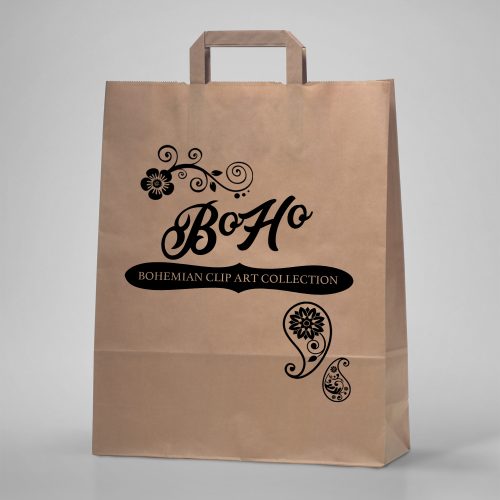 An inexpensive shopping bag helps complete the shopping experience at BoHo, helping this brand achieve consistency. A simple applied label would also be appropriate for a bohemian style brand image.
If posts like this inspire you to think about brand strategy sign up below for more brand advice, creative inspiration, product discounts and more.