Are you looking for new ways to use your paper strips left over from trimming paper or book pages? 
Paper bows are one way to use those scraps while making a beautiful addition to bag toppers, notebooks or gifts. You can also use them to decorate journal covers. 
They are super easy to make. You can glue or staple them together. You can fasten them to fish tails, tags, circles or many other shapes. 
You can embellish the center with flowers, jewels or paper circles. Mixing your paper choices gives these bows a  bohemian style. They can be any size you are comfortable assembling.
Paper bows are an easy craft project that helps you recycle scraps in a fun new way.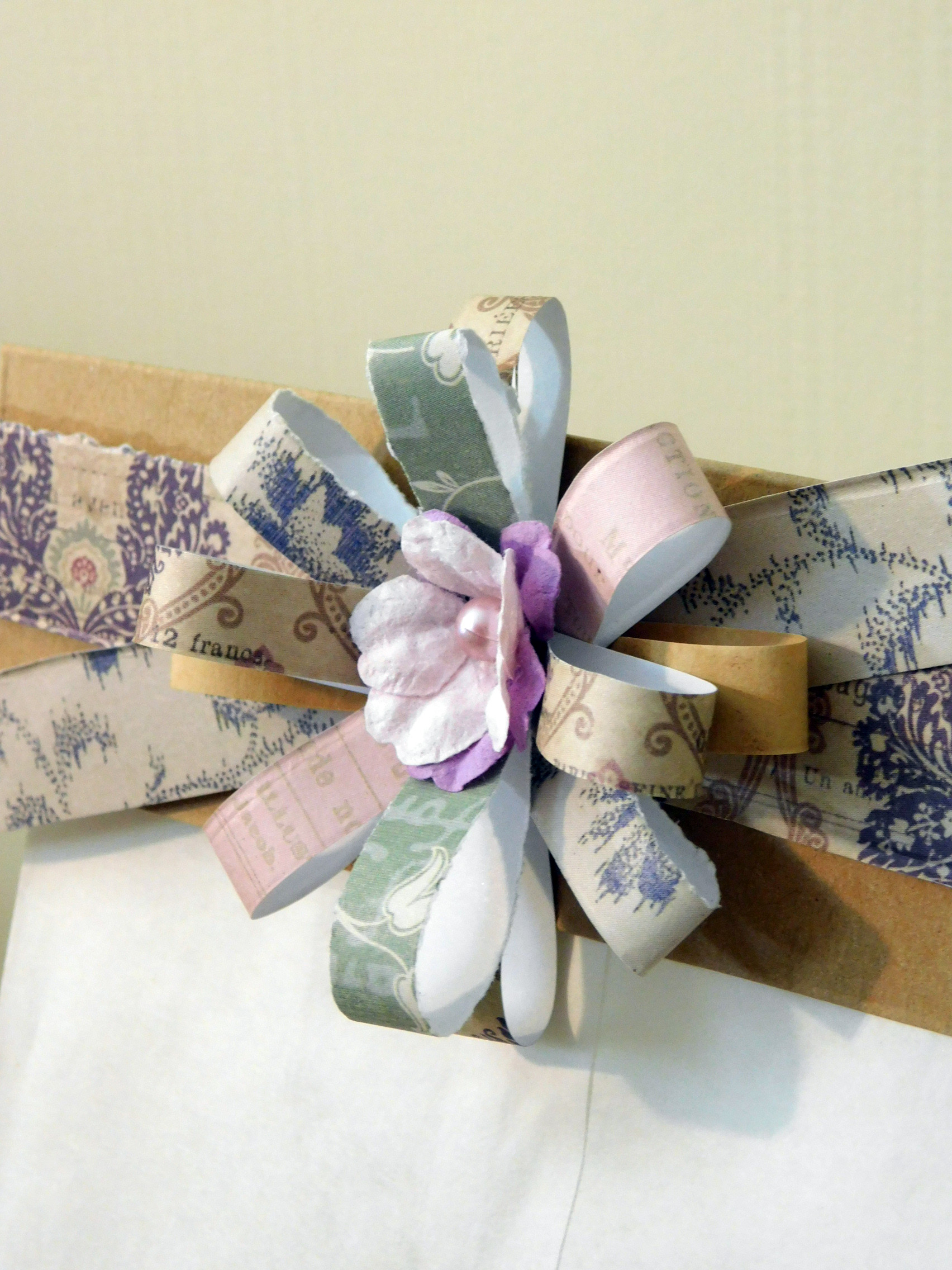 What you will need:
6 – 6″ length paper strips trimmed to approx. 1/4 in. wide
2 slightly wider strips for fishtails. Two fishtails per bow
Center embellishments, flowers, jewels, brads etc.
Circle punch cutouts if you want to use a circle for your base
Glue or staples. Tacky glue fast sets.
News: In addition to ending my Woo Commerce platform and opening a new shop on Shopify I decided to simplify this site as much as possible and keep it content focused with inspirational products, a gallery and freebies only. I hope visitors will find it much easier to navigate while still being able to shop safely and more easily on other shopping platforms. You can also still find my products on Etsy.
Assembly:
Glue ends of each of six strips to create six rings. Glue center seam of the six rings to create six figure 8's. Assemble first two rings in to a plus sign shape. Cross layer third ring at an angle to plus shape. Layer next ring to create an X. Keep layering rings and fill spaces as you go. Embellish center. Cut fish tails on each end of two wider strips, arrange. Glue bow to fish tail or other base.
Make paper bows any size and use to embellish bag toppers or to adorn other items.