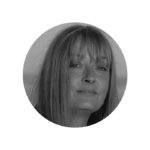 Partner. Full service design agency.
Independent Newspaper Publishing. Advertising and publication layout design.
Photo Editor, Ad design. Newspaper, specialty publication, and book publication design.
 As I began my design career I was fortunate  to have some very experienced mentors in the printing and publishing business which opened many avenues for job opportunities, including independent publications. As a staff member I was able to participate in the publication of many newspapers, ads, books, magazines, and tabloids which quickly honed my print publication skills. 
In 2003, after completing my education in graphic design followed by logo design and branding courses, I began a partnership graphic design business in Italy with my husband, Mary & Ferrari Graphic Design. My husband also had a previous print career in the book publishing industry after design school in Milan. As a full service design agency this opened many areas to us to utilize our creative skills such as packaging, ad design, interior displays, signage, way finding, web design, extensive web development etc. This allowed us a deep dive into business and commercial art. In addition to maintaining a full client portfolio which continues to expand, we constantly update our skills to enable us to better serve our clients.
I eventually specialized in branding and identity which included brand strategy. I have worked with many businesses to increase their market productivity and value with intensive brand management skills.
After a long career of helping others achieve their business goals and having a family, I have returned to my design foundations, and have begun expanding our business with the creation of Espresso Press Media©. Espresso Press Media© includes specialty consumer graphic design products and creative assets for the increasingly expanding self publishing market. It targets those with little design or publishing experience. It also offers basic graphic design services for small start ups helping them scale their business with cohesive design strategy from the start. Eventually it will be an avenue helping new designers gain real world experience and will have its own digital product line.
I also wanted a site to write about design, the business of design, and to have a place to share my most creative work.
In addition to nationally recognized logo design, I am also an award winning watercolor artist. For fun I take photos and sell them on sites like Adobe.
Graphic Design
Branding
Logo Design
Sessions College For Professional Design
Other Design Software
85%
Brochure, folder, website
Brochure, folder, other print collateral trade show display, billboard, 
Logo, product specs, website
Food Processing Components, Pa.
Logo, stationery, collateral
Giuseppe's Finer Foods, Pa.
Flyers, folder, trade show displays, food labels
Simply Skin Medical Spa, Pa.
Logo, stationery, collateral, brochure, website, advertising
Cutting Edge Machining, Pa.
Logo, stationery, website
Cutting Edge Bullets, Pa.
Logo, stationery, website, packaging, advertising
Logo, stationery, website, brochure, map, schedule, mailing
Logo, stationery, advertising, banners
Folder, stationery, newsletter
Area Transportation Authority, Pa.
Community Connections, Pa.
Logo, stationery, website
DuBois Central Catholic, Pa.
Logo, notecards, poster, magnet other print collateral, brand strategy, development
Seger's Industrial Radiator, Pa.
Aaron Peters, Chiropractor, Pa.
 Loaded Creative, State College Pa.