Table Treat or Party Favor
Make your Halloween festive with this simple little tent treat bag holder.
I used Graphic 45 12×12 sheet Happy Haunting Collection Pumpkin Time #4500523 and Vintage Halloween Journal Cards by Espresso Press Design as shown.
What you will need:
Paper W 2.75″ x L 10.5″
Plastic Bag (sandwich bag)
Paper Punch
Ribbon
Trim your paper to 2.75″ x 10.5″.
Score and fold at:
4 1/4″ or 4.25″
5 1/2″ or 5.5″
9 3/4″ or 9.75″
10″
In between your 9 3/4″ fold and your 10″ fold punch a hole in the center with your paper punch. This is where you will thread your treat bag through. Don't use a thick bag. You might also be able to gather tulle in to a bag shape that will be thin enough to thread through the hole.
Fill your treat bag first and thread bag through top hole. 
Fold your top flap over as shown.
Use any ribbon or string to tie your bag. Secure top flap to back of bag/tent with glue dots or staple.
Tips:
Remember one side of your folded paper will be upside down, choose a pattern appropriately. In this case I glued an image over it, so it is not that noticeable. Some patterns (like text) you can run sideways. Double sided print isn't necessary.
Using a thin sandwich bag cut up the sides of the bag tuck/fold to make top edges even for easier threading.
happy
pretty little paper crafts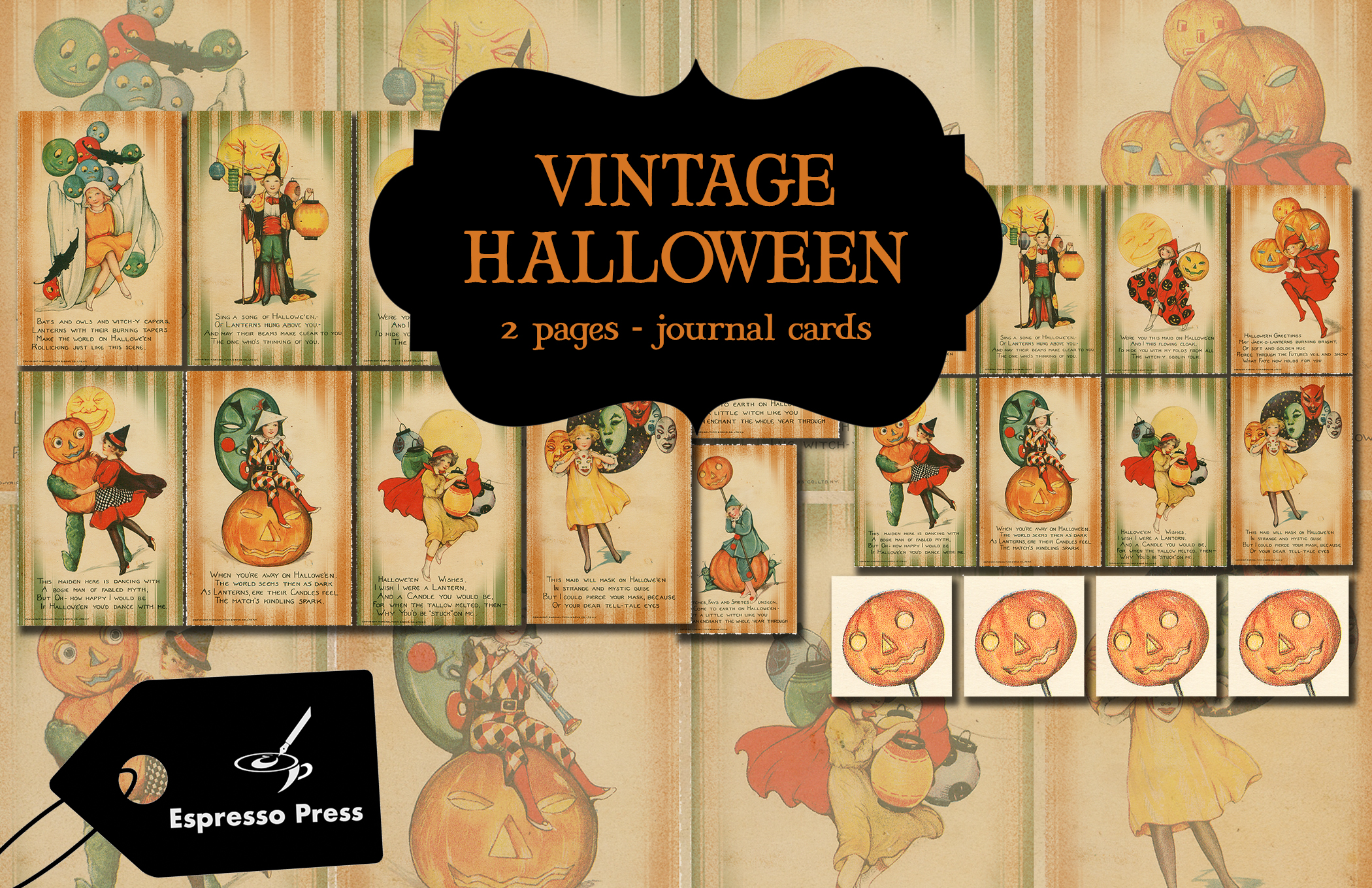 Nostalgic and fun vintage color All Hallows Eve journal cards designed from 1918 Raphael Tuck postcard collection with vintage wallpaper background. Two pages of cards, approx. 2.5"x4" and 2"x3", also includes some pumpkin cutouts. You'll use these cards for junk journals, paper crafting, scrapbooking and more!