Are you looking for another idea to rid yourself of those pesky die cut left over pieces? I've come up with a new way to use mine and made these flower bobby pin clips. Can be done in two ways and uses tiny scraps. Make a package too for tucking in a stocking or a journal pocket.
What you'll need:
Scrap paper (thicker is better for one idea)
Packaging material
Punches for making two holes like a button (I used 1/8″ punch but you can use 1/16″ or an awl). Punched shapes or die cuts for making your flowers.
Glue
You can use any type of punch or die cut to make the flowers or hearts or whatever type of embellishment you wish. Let your imagination wander for the decorating itself as I only used a punch to make the two button type holes on the base.
For the gold and leather type flower I used thicker material. You can use packaging material for that as well if you don't have heavy stock. The button die cut worked well as the holes were smaller than 1/8″ to keep the simple clips from wobbling.
These are so simple to make and I made all of these in about an hour. The packaging is simple too and makes a cute addition.
I hope this inspires you to make some bobby pin flower clips of your own.
Happy paper crafting!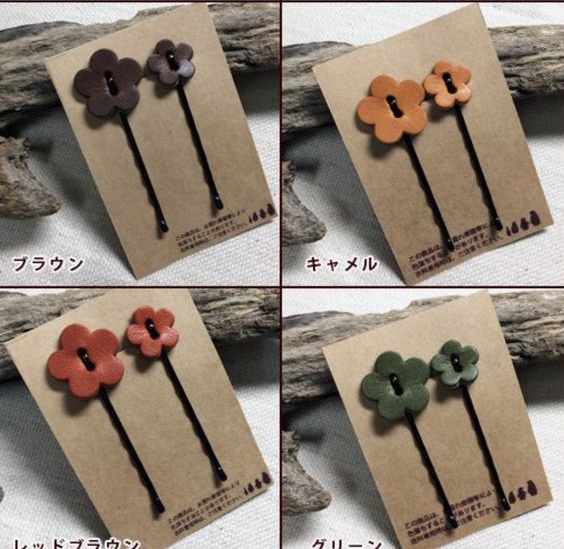 Including this inspiration photo from Pinterest as a close-up so you can see how the original leather bobby pin style was threaded. No link.