Paper flowers are a hot embellishment right now but there is no need to worry about buying multiple flower punches when you can create flowers easily with just a circle shape.
Flower petal shapes can be cut and layered multiple ways and here is just one example. They can also be embellished further by adding leaves or stems.
You can also use a variety of papers and techniques to dye, ink or paint them. You can fringe the edges with gold or other metallics. 
You can add jewels or other adornments to the center. You can also arrange the flowers in to bouquets or cascades by gluing on to a background.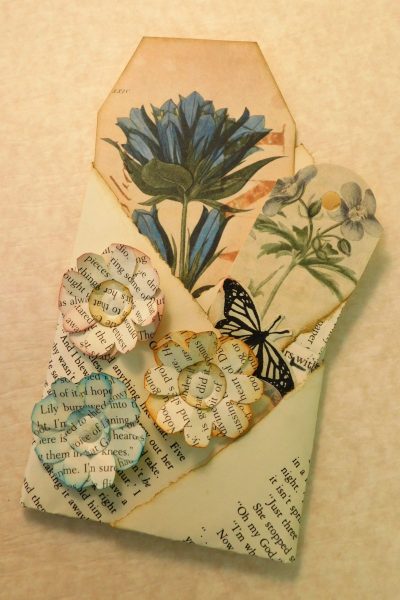 If you can cut a few simple shapes you can make flowers. Follow the tracing the first few times and with a little practice you will be creating numerous flowers in no time.
Glue the centers and emboss the center with any round, hollow shape. I used a marker end. If you emboss while the glue is still wet the flower will keep its 3D shape once the glue dries.
You will need three circles to make these flowers. Two are the same size but cut as shown. The third is a smaller circle shape for the center. You can use two different punches or you can cut your circles by hand.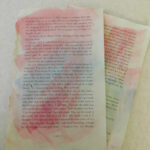 Tissue paper glued to pages worked well, especially when crinkled and napkins worked well too as long as the glue was completely dry. 
I watercolored book pages to start but later just tried some inked edges. I found contrasting colors worked best when making them out of varieties of scrapbook paper. 
I also liked mixing and matching book pages with scrapbook paper. 
I was inspired to create these flowers after seeing all of the varieties in the hobby shop but for right now I didn't want to invest in another tool. After a little exploration on the internet I finally came up with my own way to cut flowers out of just one circle instead of gluing several petal shapes together. I was only limited by how many times I could fold and cut a circle before it became too small to work with.
I found several ways to create these flowers in just one craft session but I plan on expanding on the idea to create a variety of flowers. It was a a fun, simple project that made me think of future opportunities to create these beautiful embellishments.
Watercolor Pages, Rice Paper and Tea Dyed Flowers
I tried several different techniques to make these flowers but in the end I was drawn to rice paper, tea dye and book page flowers.