This journal evolved from another card project as shown here.
I was going to keep it the size shown and make a mini journal but when I chose this Tim Holtz paper and teamed it up with another paper pack I suddenly realized I could at long last try something I have wanted to attempt for quite a while and that was a scrap paper dress, inspiration below. 
I have often thought about what I could do with this large figure of a women in this particular very popular paper pack from Hobby Lobby but have never used a single sheet of it until now.
I wasn't going to venture in to these images from My Fair Lady ephemera for embellishing but once I decided on a blue one I was invested. After I had her glued in I thought the layout slightly resembled a dressing room but too late the pocket and image was already glued down.
Of course I had to see if the idea worked and came up with version two.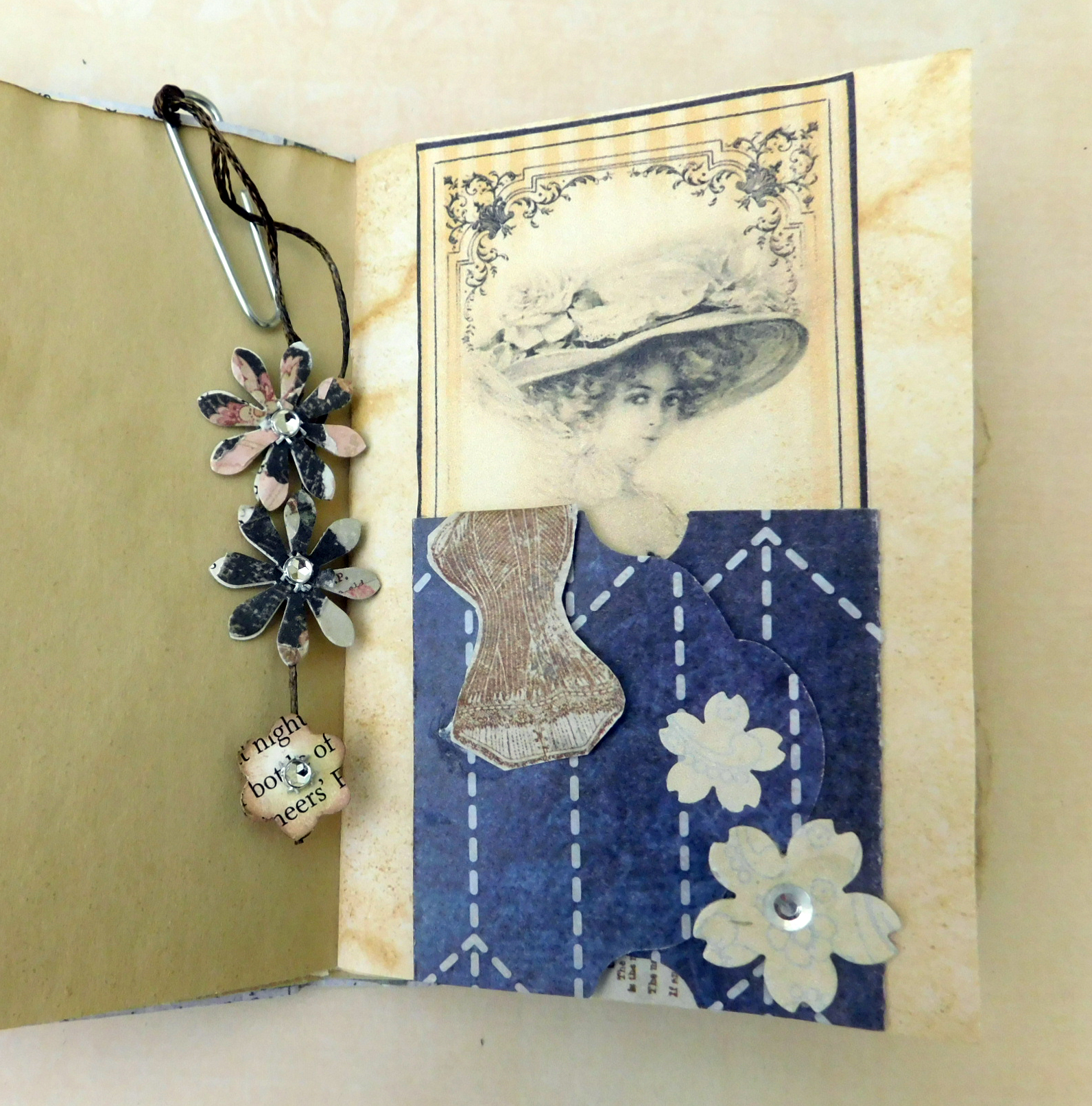 The tag fold opens like a door to reveal a corset ad which I thought was a little humorous. I wished I had a full length image but I didn't have an appropriate one. I also could've done a lace up embellishment and that would've been nice too. I could also have used a paper doll….too many ideas pop up once you get going….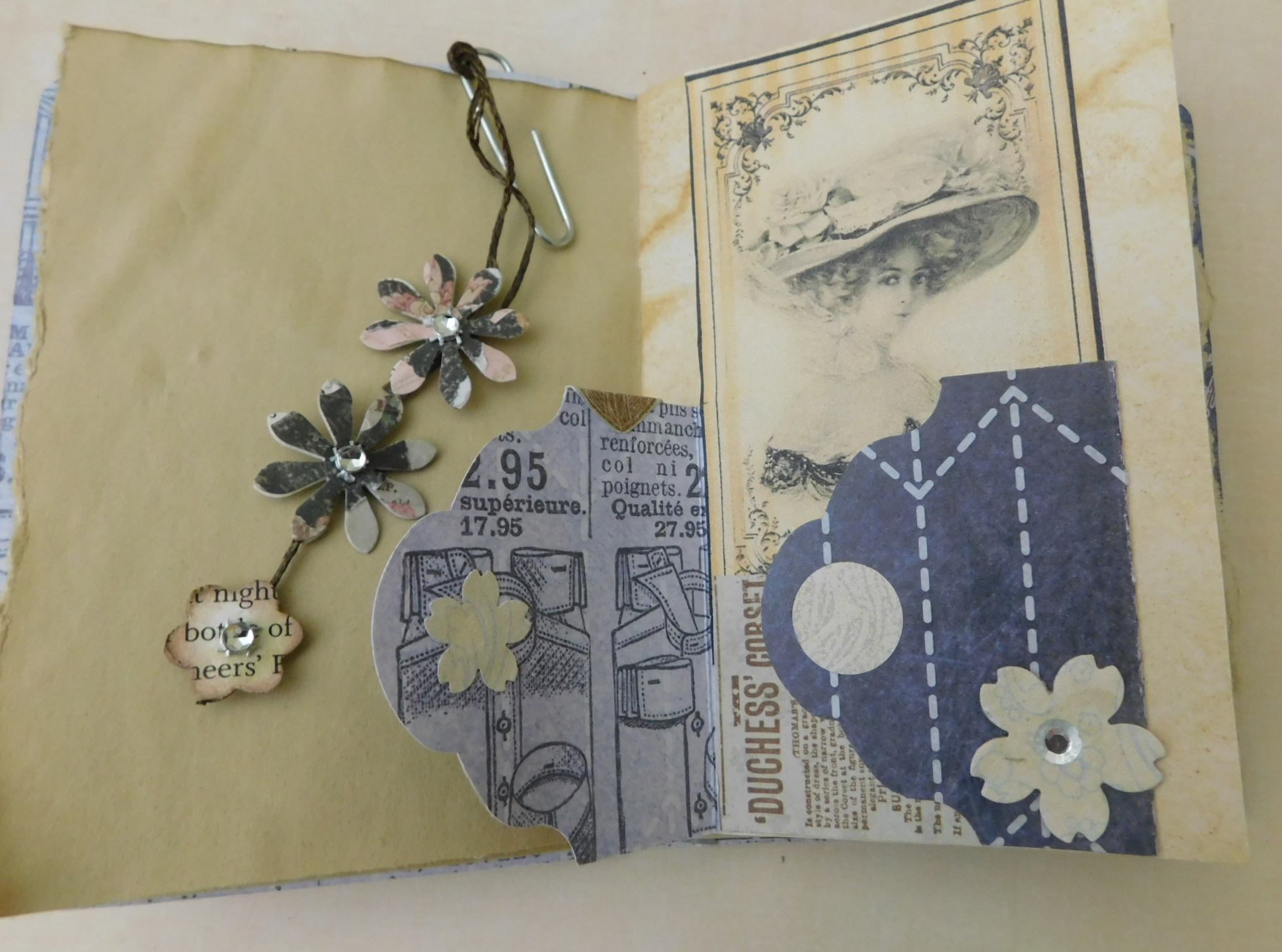 Even though this mini journal evolved on the fly in more ways that one it reminded me of how much fun it is to be inspired by each page to create more and more elements to accompany the piece. In the end it is filled with torn pockets to resemble fabric pieces, quilted and. embossed tags and a few handmade clothing tags as well as a vintage Singer sewing machine journal card, the majority just found items from my stash. Yay, finally used.
I wanted a clip on earring to make a cover closure but didn't have just the right one so I will have to look for that and in the meantime I just used some journal jewelry as seen in this older post, paper charms. I will keep this one as a bookmark.
This second mini journal was a snap to create from a card idea. Scrapbook paper dresses is but another imaginative idea that has inspired me and I hope this mini journal inspires you to try them as a cover or page image for your next journal. 
Happy paper crafting!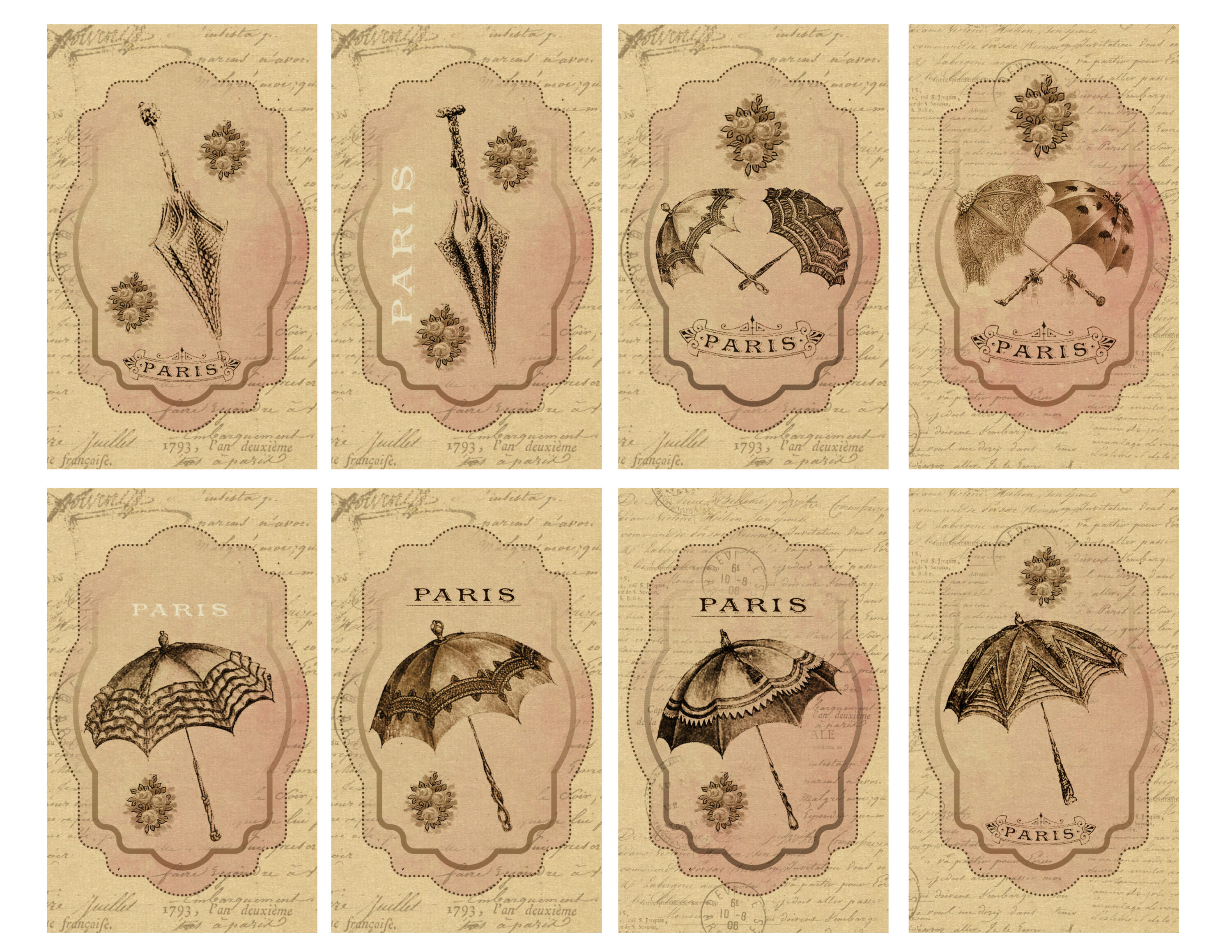 This product offered as a free download sample paper pack, no sign up necessary, will download automatically to your computer. Let me know what you made and share on FB, I'd love to see it.
happy
pretty little paper crafts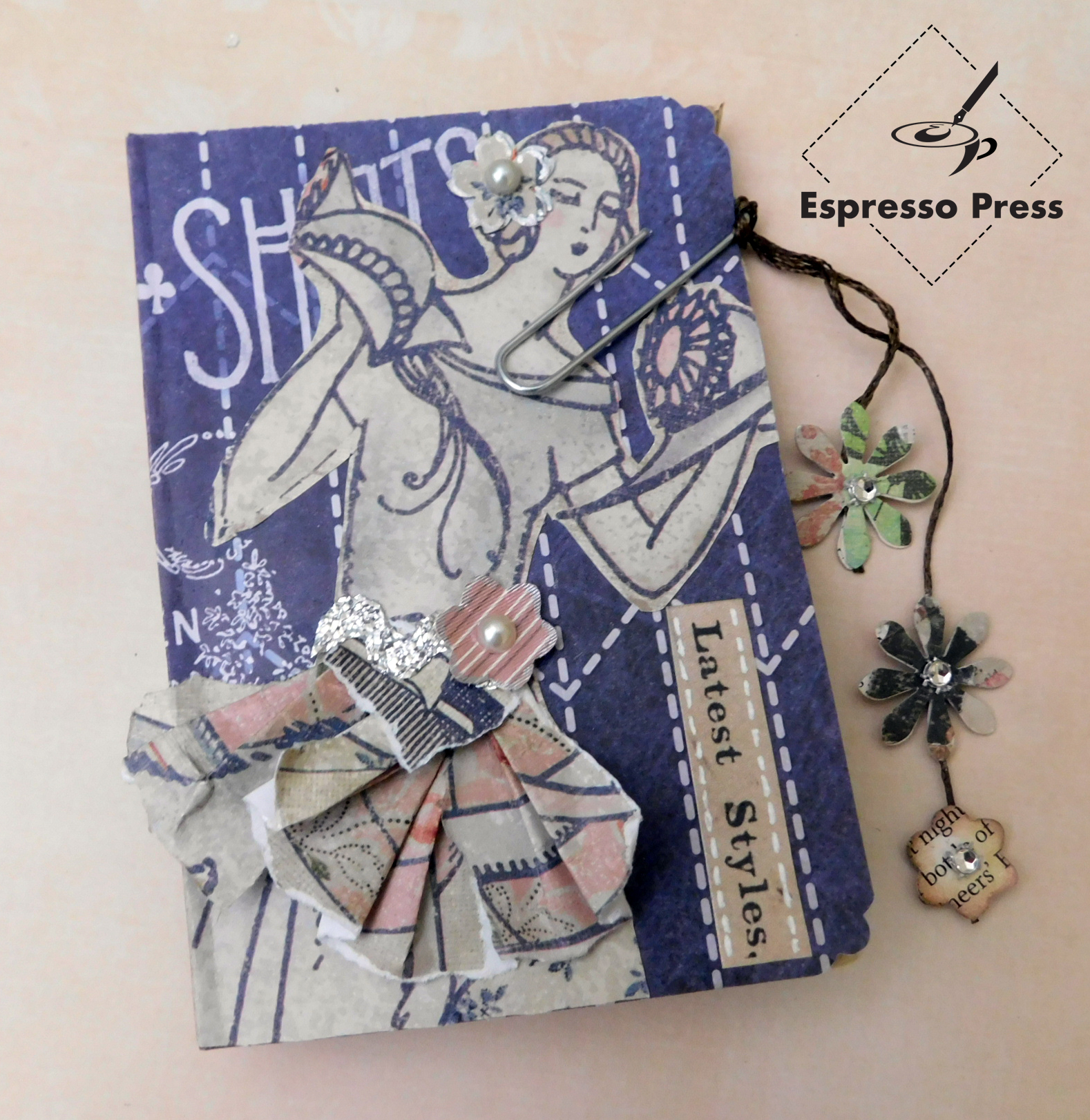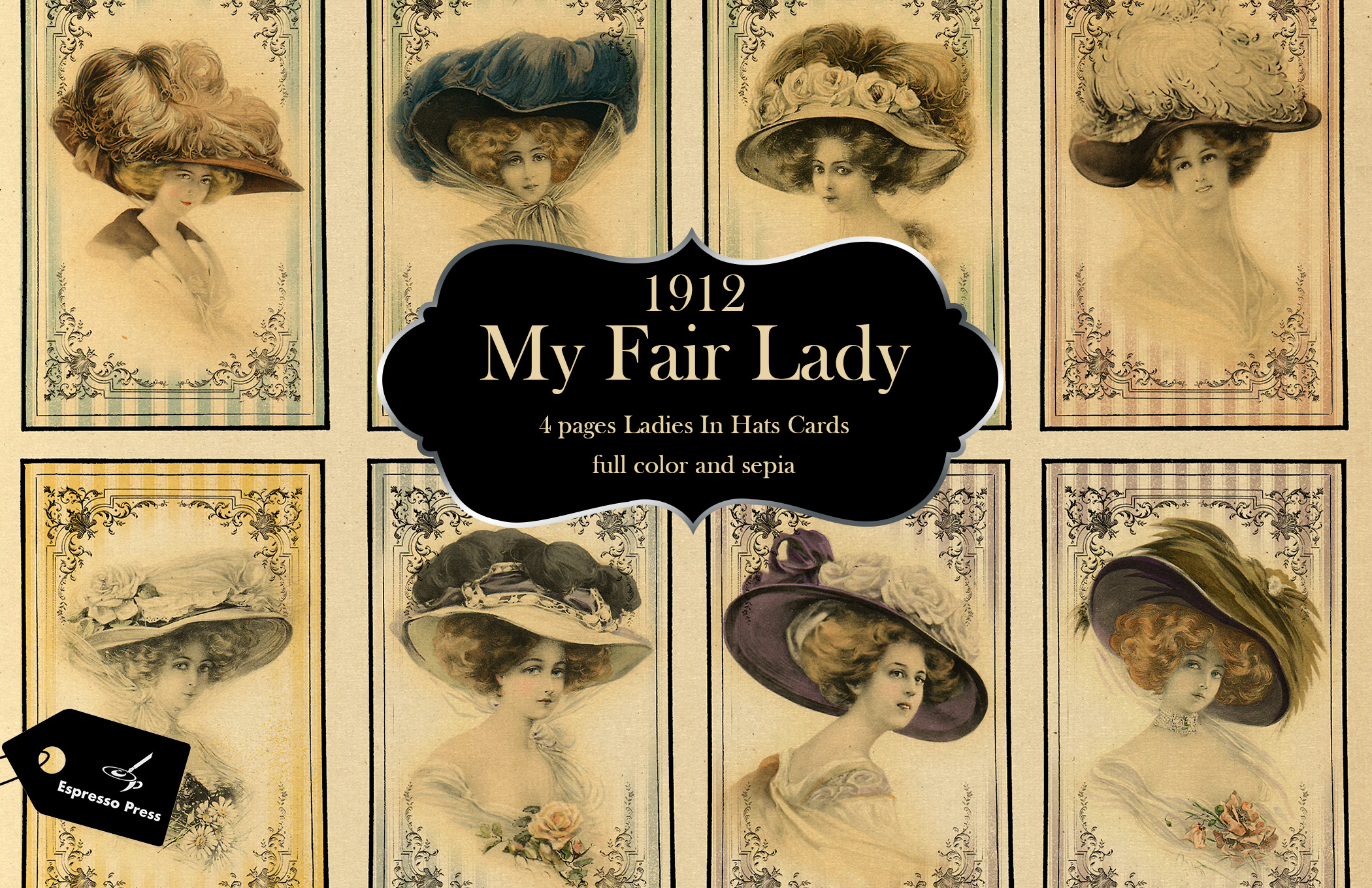 My Fair Lady - Digital Edwardian/Vintage Ladies in Hats Cards 4 Sheets beautiful 1912 ladies in hats cards, 10 smaller cards and 3 larger journal cards. In multiple colors. Easy to cut out frames with vintage paper background, no white edges. Two styles, full color and sepia. Sizes approx. 2.5" x 3.75" and 3" x 5". You'll use these cards for junk journals, paper crafting, scrapbooking and more! Approx. 26MB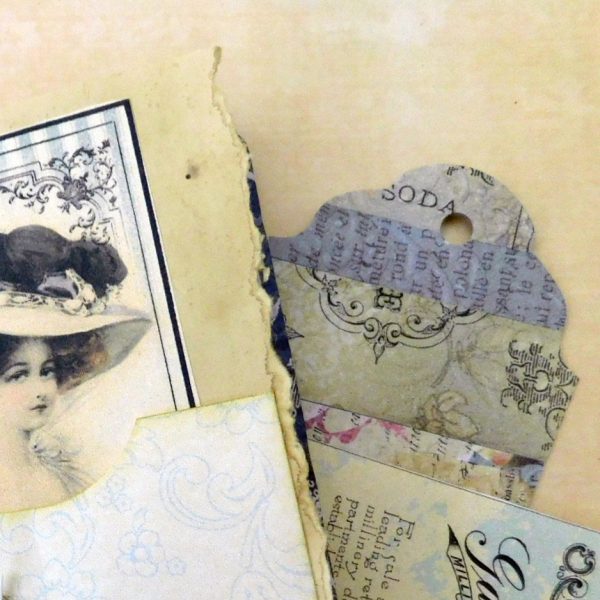 Even with careful measuring, after bound my page borders were beyond the cover edge, I know some love that but I didn't in this case so I watered each page edge with a small brush and tore off to create a deckle edge. Wax paper in between each page so I didn't soak more than one.