Birthday Card Ideas
This is another card on my list if you've been following these new feature posts.
A birthday card for my husband and I always gravitate toward cards made with this beautiful set from Stampin Up, titled Very Versaille. I think it is retired but I will keep browsing Ebay for it. I personally don't see why if so, I am sure it is a bestseller. It probably deserves its own board on my Pinterest as I save almost every card I see using it. Links are included with photos if there is one.
I do not have this stamp set and I only have one set of silhouette leaf stamps which I've used on my first try as inspired by Very Versaille. I am not going to use it again so I think I will use a stencil since what really inspires me is the multi color stamping along with the text. I am going to attempt two upcoming cards with this technique as it is so lovely. When experimenting with stamping I usually take some copy paper scraps with nothing on the back and cut them to card base size, this saves a lot of paper and I can get at least four tries per sheet so this gives me ample room for trying colors, stamps and layouts. Most of my inks are also in the darker range so to get this muted effect as shown in some of these sample cards, I stamp off first.
P.S.:
I thought I would take you along with my inspiration gatherings as I finish the item I'll either post a link here to the post with the finished piece or just add the photos of the finished pieces at the bottom. I'm also including these features as a menu item in blog posts. I'm hoping it will be an inspirational feature that you will follow along with through my creative process and that it will inspire you to begin your own gatherings.
Almost always I start with my extensive Pinterest boards, this one Crafted Cards. I use this board for many things, cover inspiration for junk journals, shaped flower arrangements, color inspiration, layout inspiration and more. Both this and Pretty Little Paper Crafts gets filled to over flowing with inspiration. 
Happy paper crafting!
The birthday card for my husband, 2022. I know it won't be the last time I attempt a replication of Very Versaille, I have another stencil that would also look very nice. I will keep looking for some silhouette stamps to fully achieve the look. I was pleased to get a lot of nice compliments on it.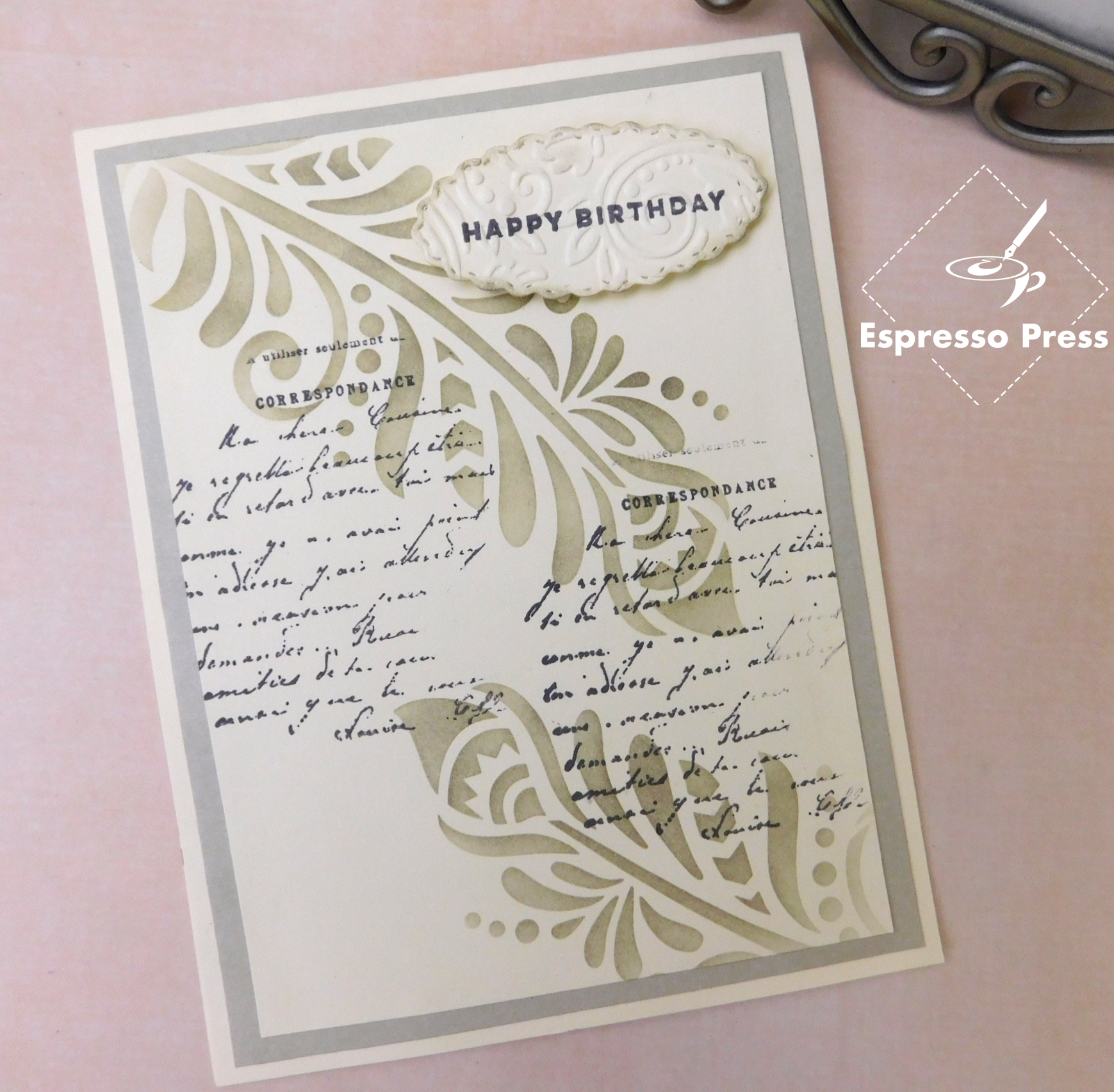 Here is my take on Very Versaille. I matched to the card stock I have on hand in neutrals. I used a stencil instead of a stamp and the stencil actually came from Dollar Tree. In the end I liked the white space so I didn't add any more embellishments in the corner.
Let me know what you make on my Facebook page, I'd love to see it.