If you've been looking for a scrap buster project for any of your paper scraps whether it be Christmas wrapping paper, digitals, failed print offs, discarded gelli prints, paint or ink catchers this may the project for you.
I saw this project in one of my mixed media groups and quickly went out and bought a child's board book. I first wanted to try my own mixed media with my new Simon Hurley stamping foam but couldn't achieve the color variety that I wanted so I thought I would shop around for some digital gelli prints.
The digital prints are from Penny Rose Journals. This product offered a lot of variety of colorful gelli prints (link in pic). I know I will get a lot of use out of these fun prints for backgrounds, BoHo paper flowers and much more.
You'll just need some scraps and some type of glue. The tutorials used acrylic matte media. I have matte Modpodge but didn't want the tacky finish so as to avoid my pages sticking together in the future. You'll also need some wax paper or parchment to put between your pages to catch glue drips. I trimmed my pages differently than the instructors and for that you'll need a nail file or a piece of sandpaper. You'll also need some tape or something to reinforce your spine if it requires a repair.
The spine most likely will begin to split as you add bulk to the pages but that is easily remedied with a slit down one side and then an extra reinforcement of your choice.
I am also sure you can add some matte medium on top or gesso at any step. 
Tip:
After doing multiple pages to compare which glues worked best in the end the glue and water mixture was not a good idea as by day 3 the page lifted completely like a sticker but was completely intact. I think what happened is that the gloss page created a barrier for the glue/water mixture and when the water evaporated completely there was nothing left for the glue to stick to. A pre-sanding of the gloss page might have solved this. Luckily, I was able to glue it back down easily with a mixture of my regular book binding glue and glue stick combined and I only did a couple of pages that way. It was also much better to avoid any drips off the sides if sanding as that led to difficulty making a razor straight tear with the nail file. When the edges/book thickness weren't covered with glue, tear off after light sanding was a breeze.
I will be keeping this project in mind for future reference as I think it can be used for a lot of different things; collage or layout practice, keepsake book for a favorite paper collection and as was my original plan the ultimate scrapbuster. I'll post a pic of the finished book. I hope my daughter likes it!
Happy paper crafting!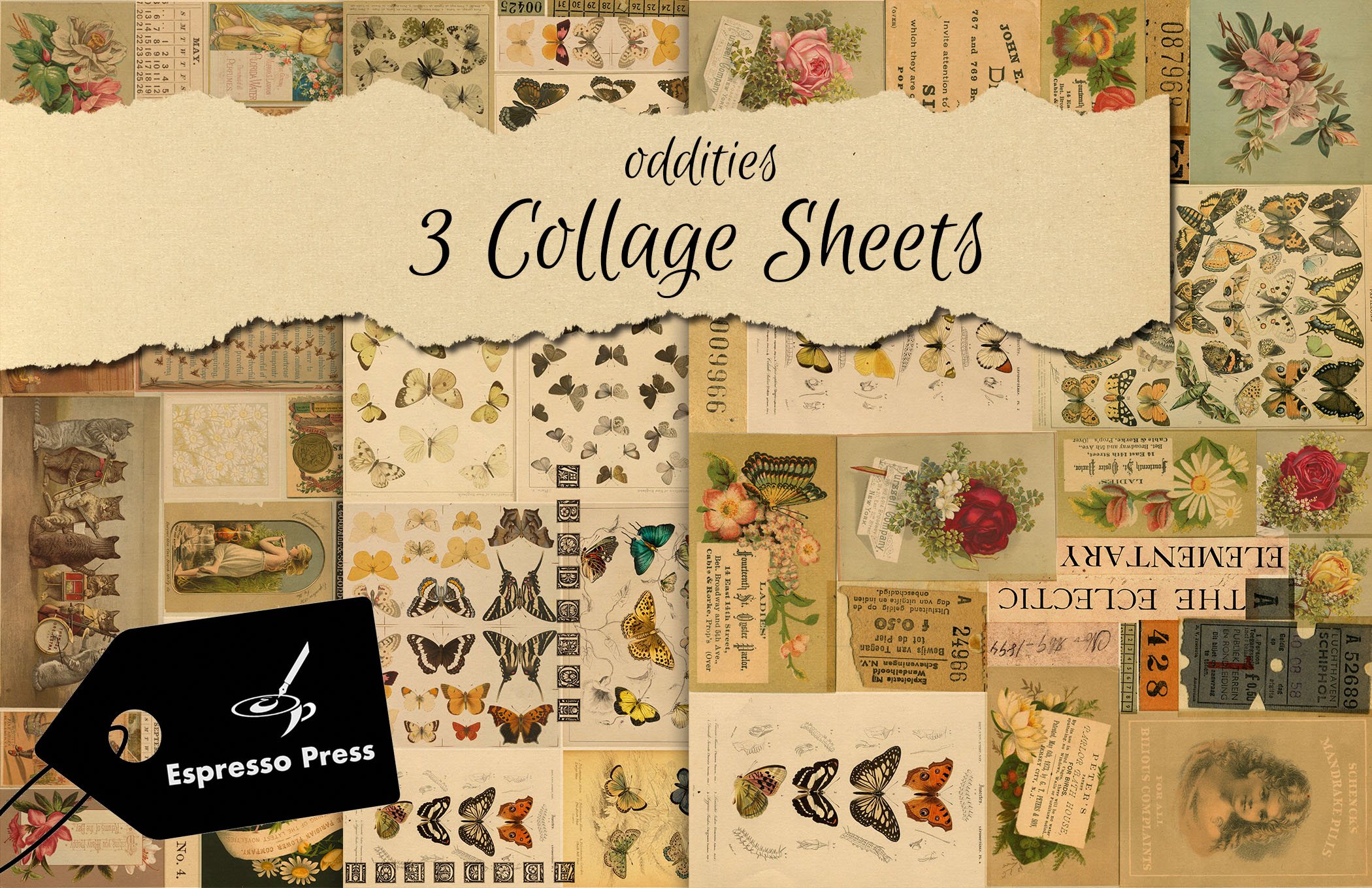 This product offered as a free download sample paper pack, no sign up necessary, will download automatically to your computer. Let me know what you made and share on FB, I'd love to see it.
happy
pretty little paper crafts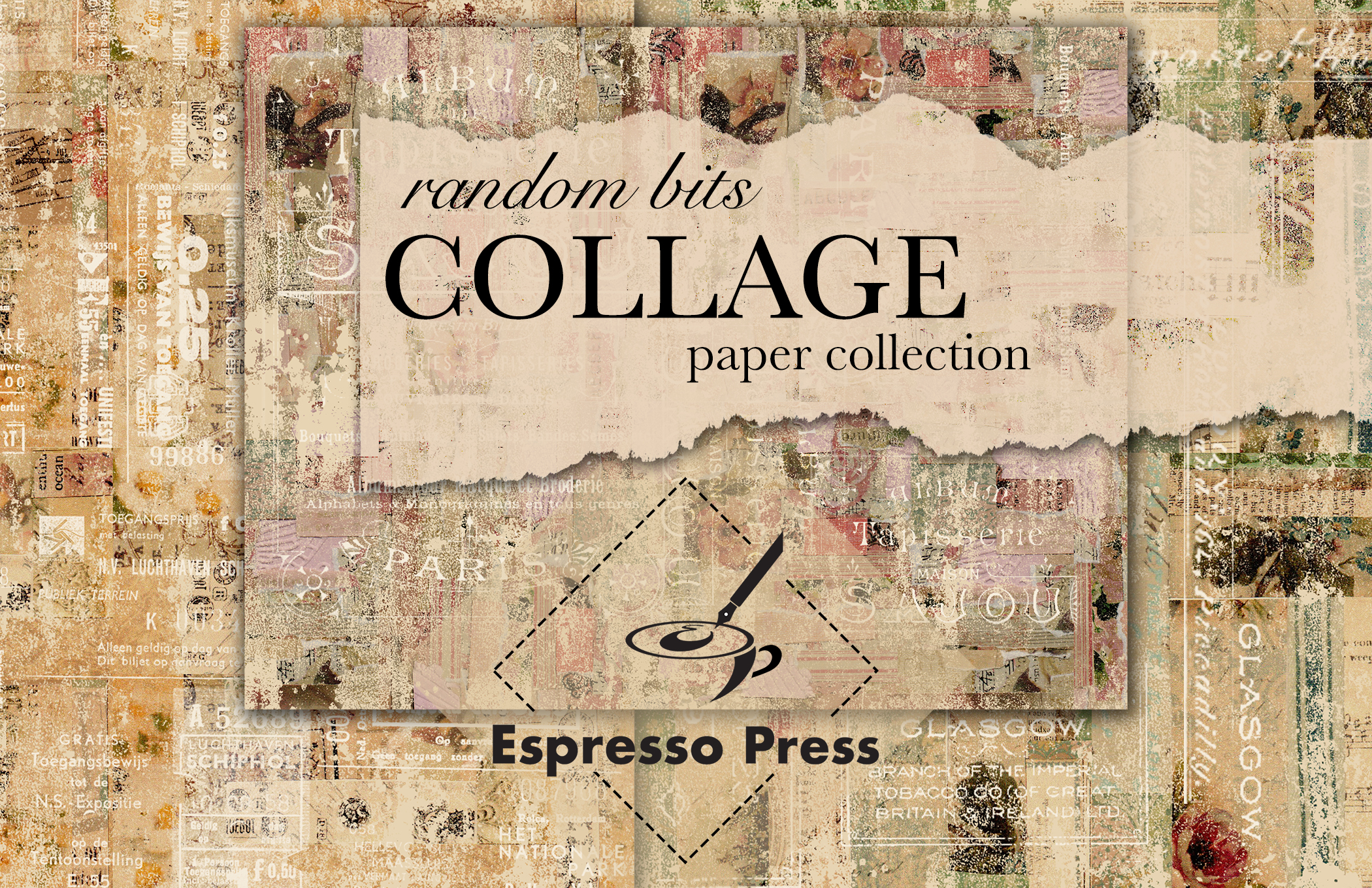 Random Bits Collage Paper Collection - Both ZIP And PDF only - Background Paper - Shabby, distressed. Random Bits collage paper. Three sheets landscape format in various colors with text details. A versatile paper collection for scrapbooks, paper crafts and more! About 43MB.
This page might appear warped or bubbled but it's not, even with wet glue I didn't notice much wrinkling so I don't think you'll have to fear using glue if you don't have acrylic matte medium. With glue stick I used only my lightest weight printer paper to ensure no future lifting. I am still not sure if I will seal the top with any medium.
Finished scraps book. I will be sealing the pages after I get some matte medium.