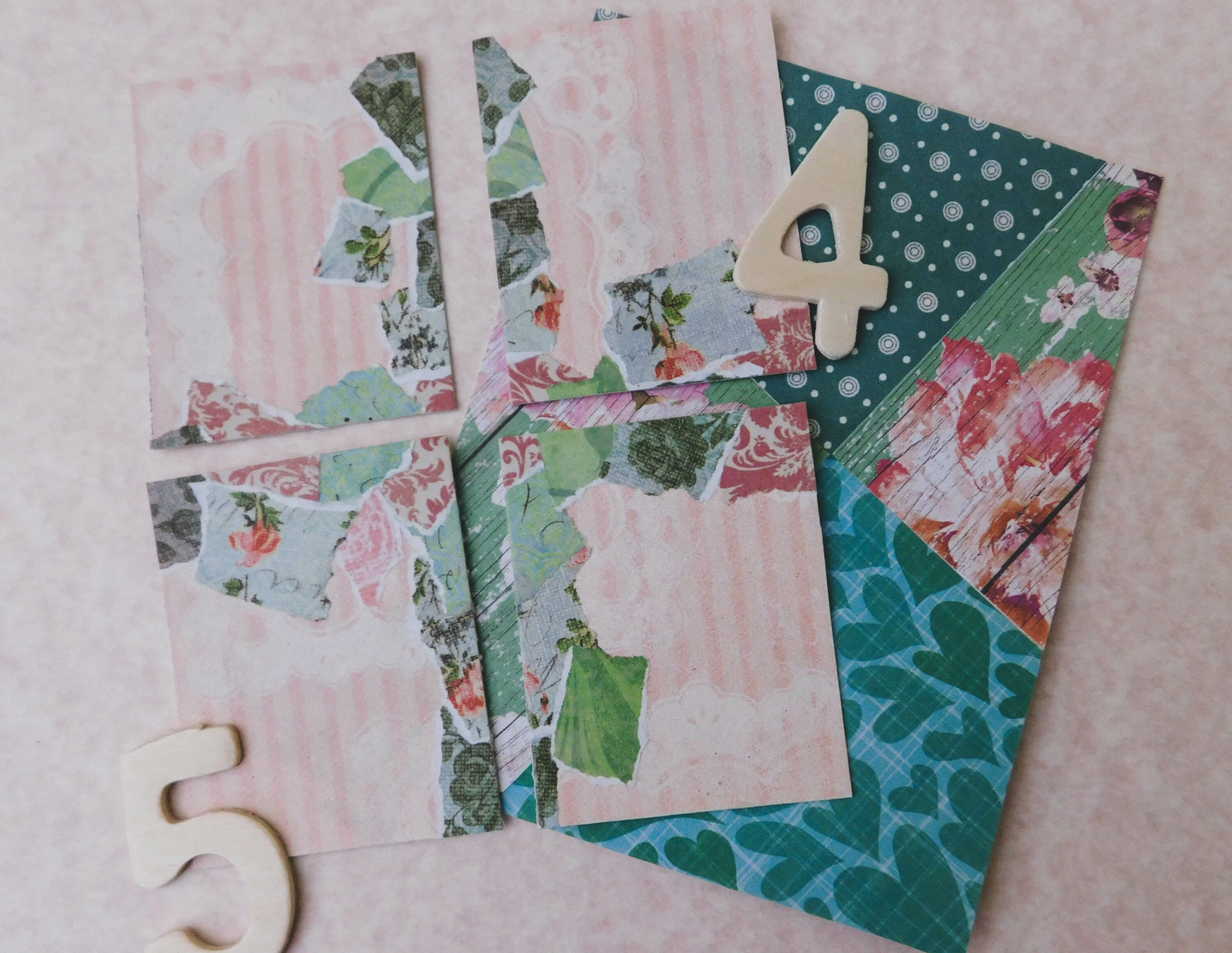 If you struggle with creating enough cohesive ephemera or making card sets this may be a technique you'll want to try. It's based on 4-way card designs, often used to create card sets whether greeting or note cards. The difference is that instead of using stamps and card stock we'll be using paper for a background and  as a second motif. You can also use these for pockets, tags, corner tucks or even as a cluster base. It all depends on how you scale and cut your base after putting them together but for this demo I'll be using the traditional 4 way cut.
What you'll need:
Your card base, you choose the size. It will be cut into 4 equal pieces but you can modify the final cut.
Paper of your choice. Can be the paper you chose for your journal (your scraps) or any paper of your choice including magazines, books etc. For the first technique you might want to keep in mind that one paper will be a background so you might want to use a small pattern or something that will fade into the background. For the second technique use whatever paper you desire.
Die cuts, punch shapes or whatever you desire for your motif (stamps, flowers, washi tape, fussy cuts, torn paper, stamps, numbers, letters, stickers. Use your imagination, just remember it will be cut.
A die cutting machine is very helpful, especially for achieving the end result but it's not necessary.
Glue and scissors, trimmer or guillotine. 
T-Square also not necessary but I find it helpful.
In the tutorial I show the technique that will virtually transform these pieces as if they were a new paper by using my die cutting/embossing machine to practically embed the top layer. You should have no problem slipping these cards into a pocket and this is a great tip for keeping master boards, tiles or serendipity paper nice and secure as well, especially if using glue stick (one thing I am going to use less of in 2023).
I also give some more tips on items you might choose to make your card bases and how you can transform each cut apart to create more assorted ephemera that will all co-ordinate nicely in your book.
If you want to try them just on scrapbook paper without a base like I used I'm sure you probably can as long as it is not too flimsy. Also remember you won't be pressing large sizes in a Sizzix unless you have the large machine. Just press them after cutting.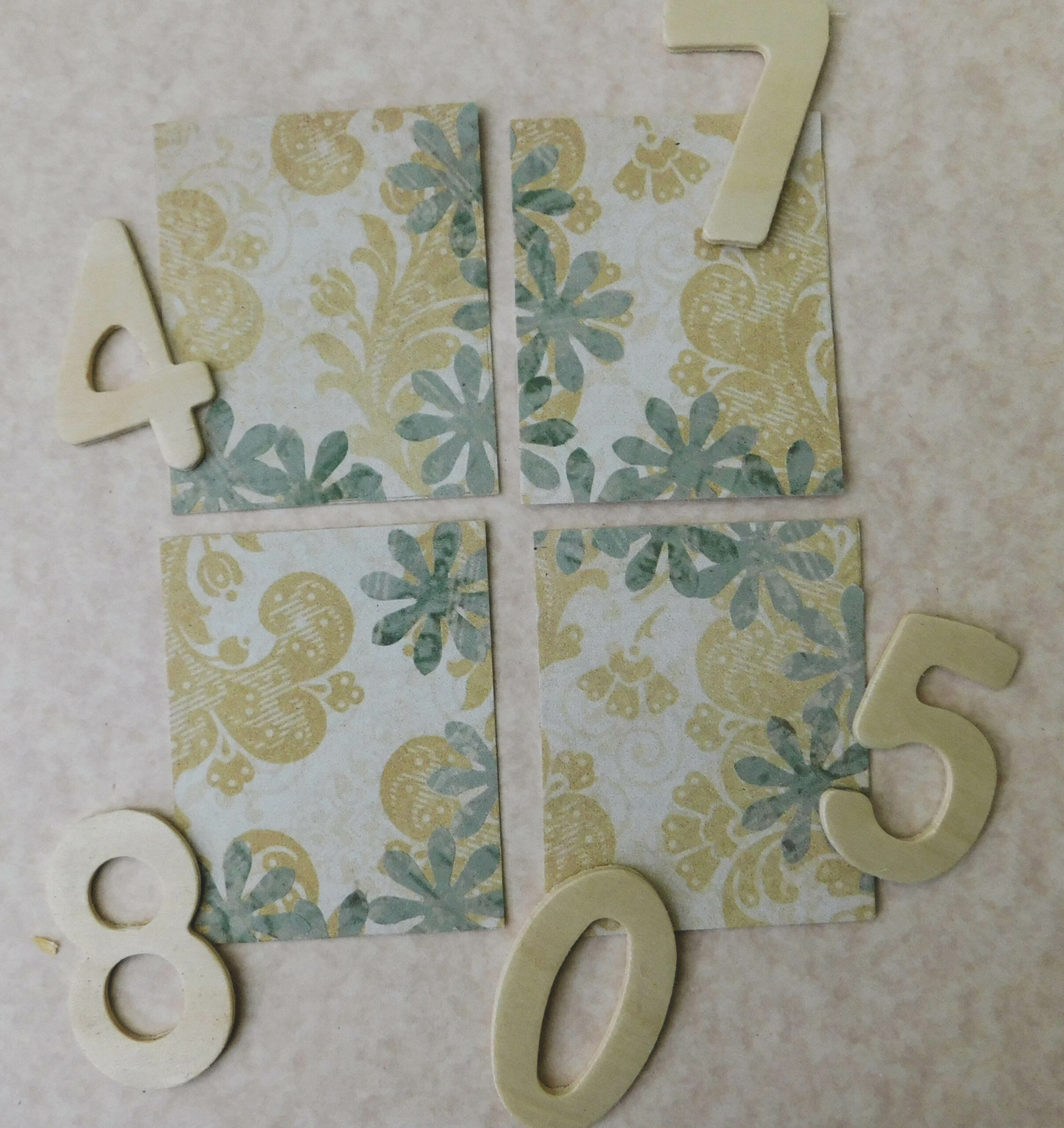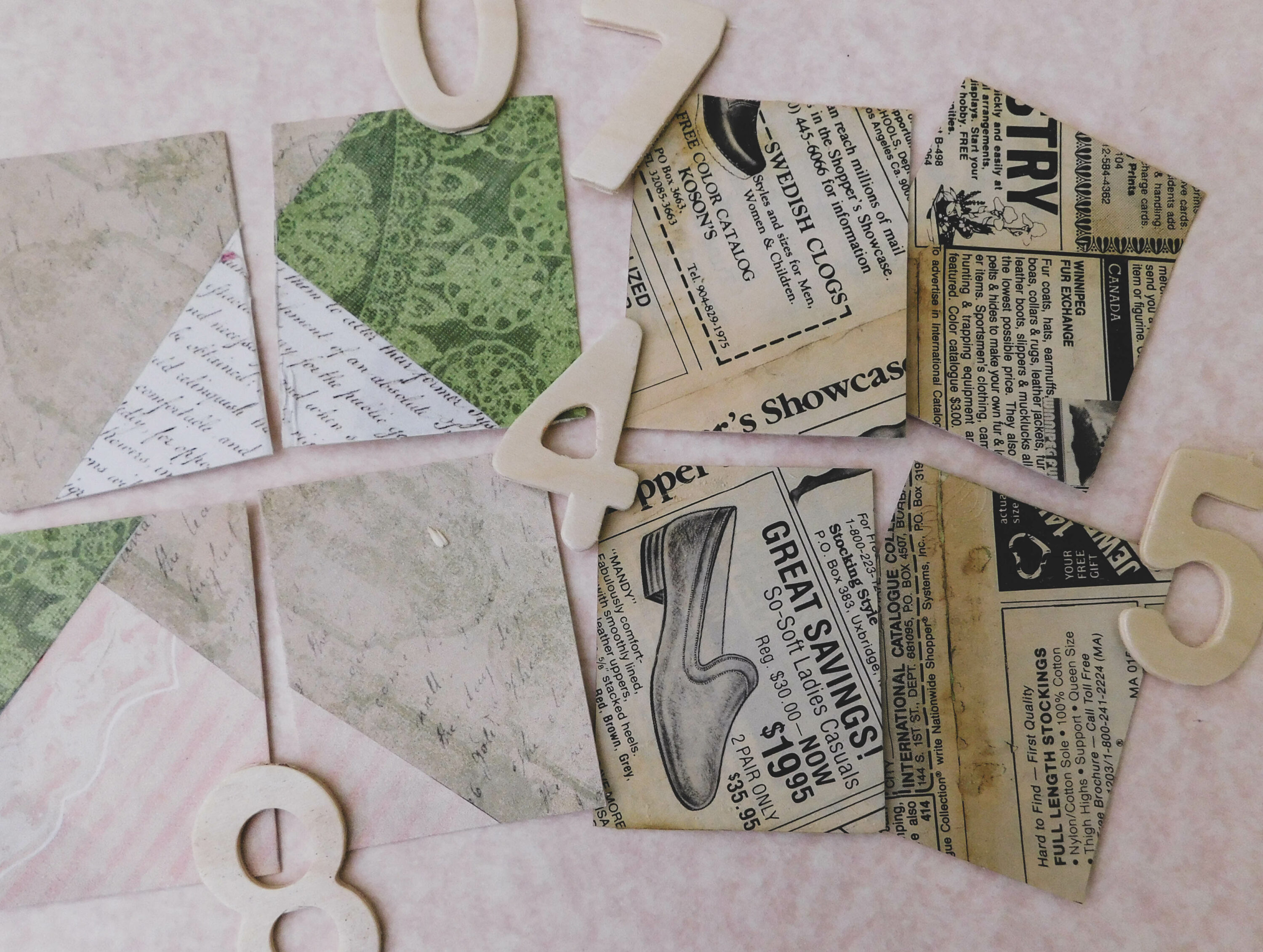 Piece papers in whatever design you choose or as many designs as you choose but it helps to always go off the edge. If you trace the first piece it will make aligning and placing the others much easier. Be creative in your paper selection to achieve a variety of looks.
I want to use some of these to create mini notecards so I chose a small card base to begin experimenting with this technique. I chose two techniques for this mass make as the second technique was explored to create a boho style  to resemble a fabric pattern inspiration. Both will work simultaneously to achieve a lot of ephemera in a short time and then you can concentrate on adding those special additions. It's also a nice break from using the standard master board technique to mass make ephemera. These are a little less busy and involved but can still be embellished as much as you desire. If you choose to keep them as card bases you can still easily add a sentiment either by stamping or pasting. They require some planning but not much and they have been a lot of fun to make.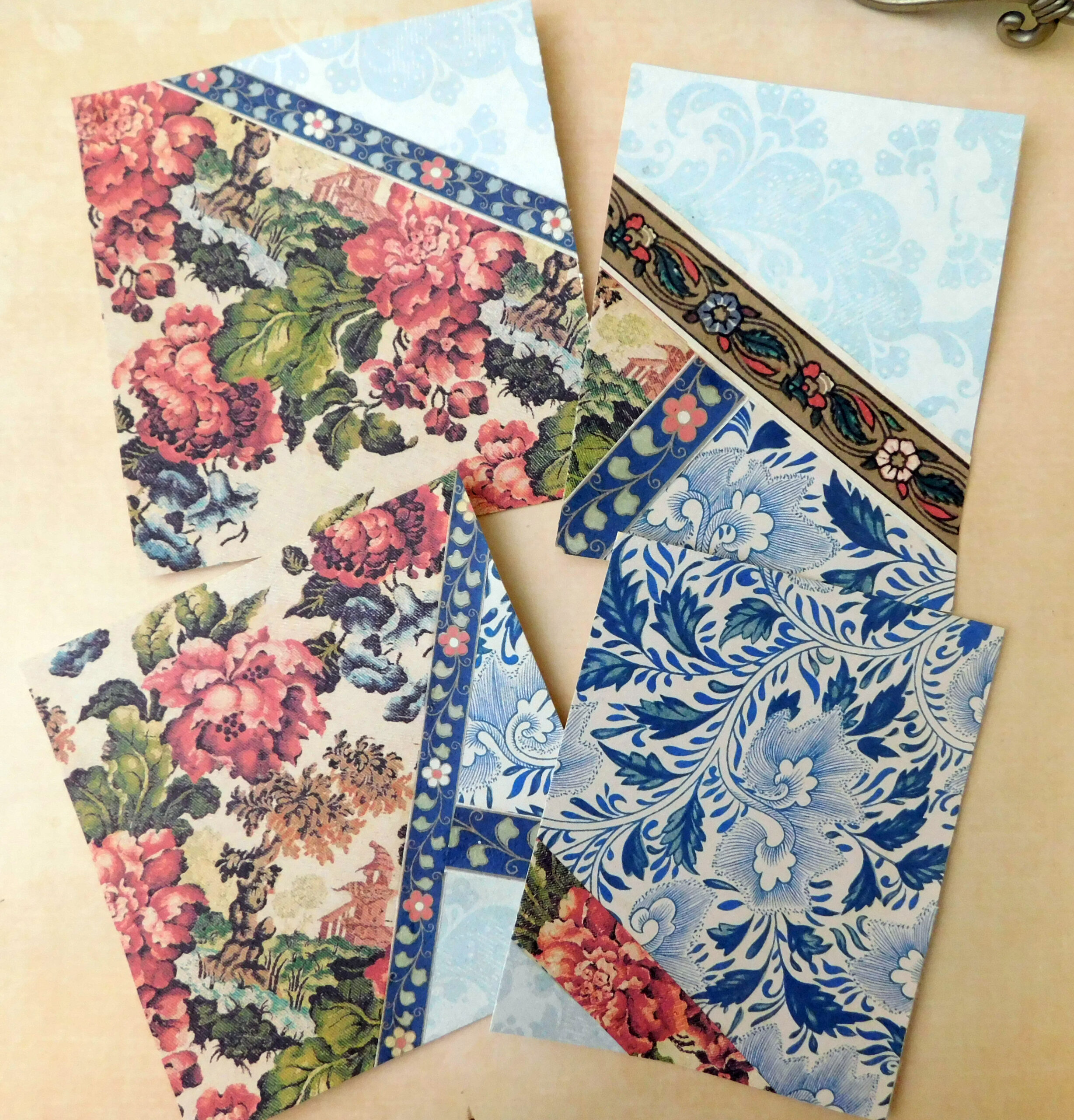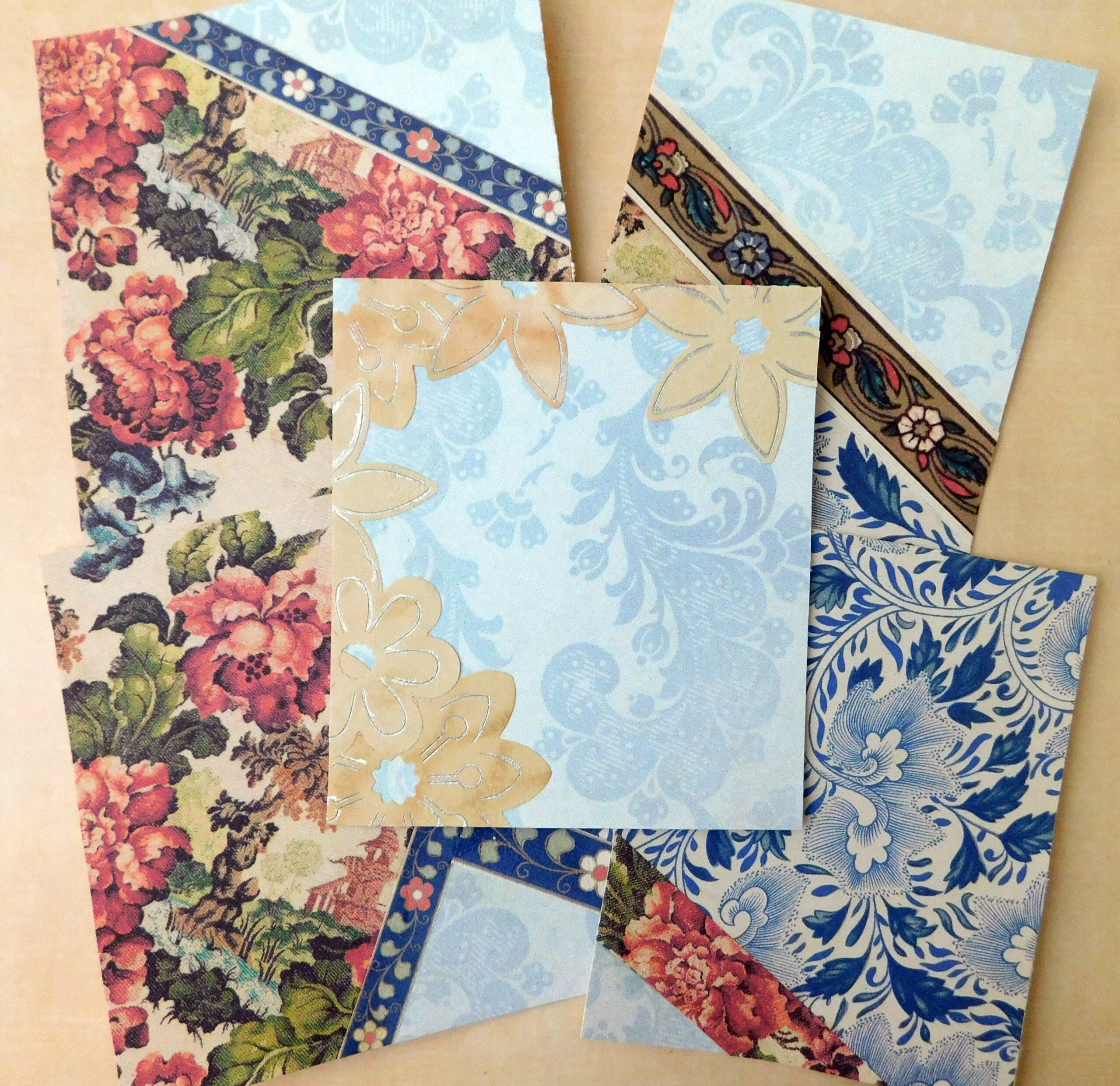 I'm half disappointed in my latest attempt. Technique 2 I love, it was what I wanted. I wish I would've inked the edges of the die cuts in the 4 way cut. I hoped that by using coffee dyed paper that they would remain distinct but after pressing they didn't and required a fix with a silver pen. I'm sure they can be salvaged with more die cuts in slightly different colors or inked edge (even watercolored) so I won't toss them. Next time I'll try more variety in tone or paper choice. All in all it's still Boho as inspired by a fabric piece from one of my Pinterest boards, pretty little paper crafts.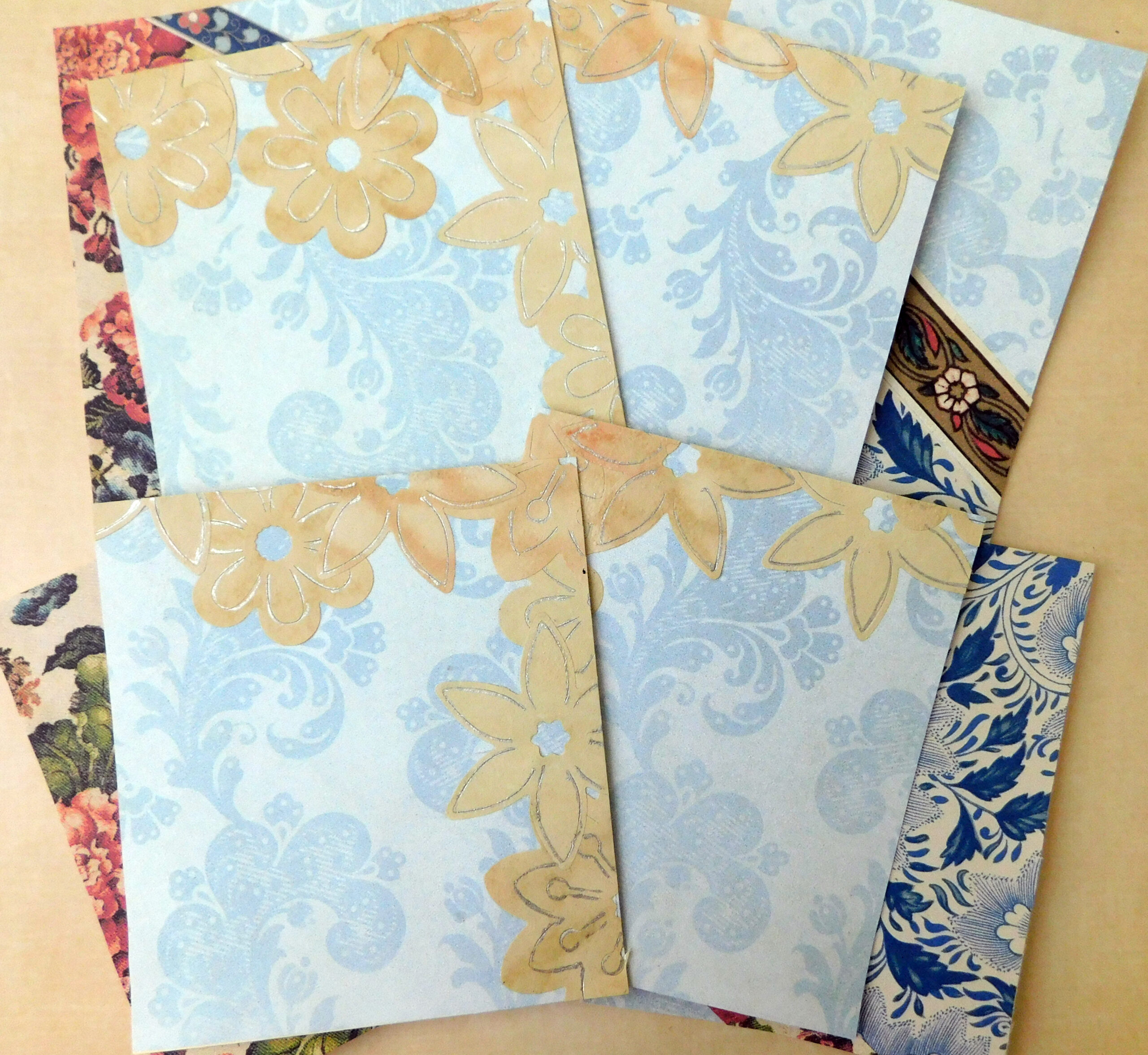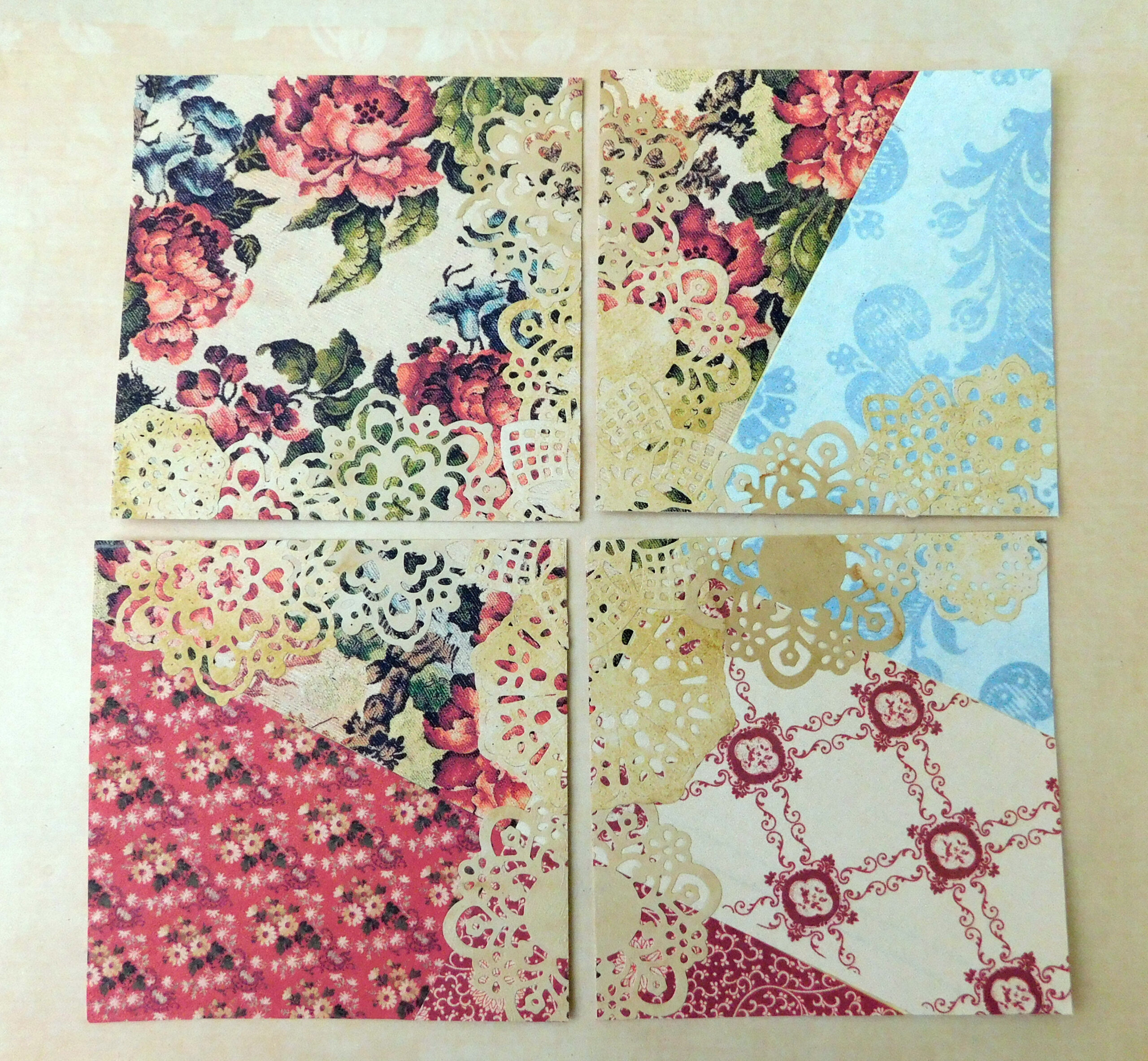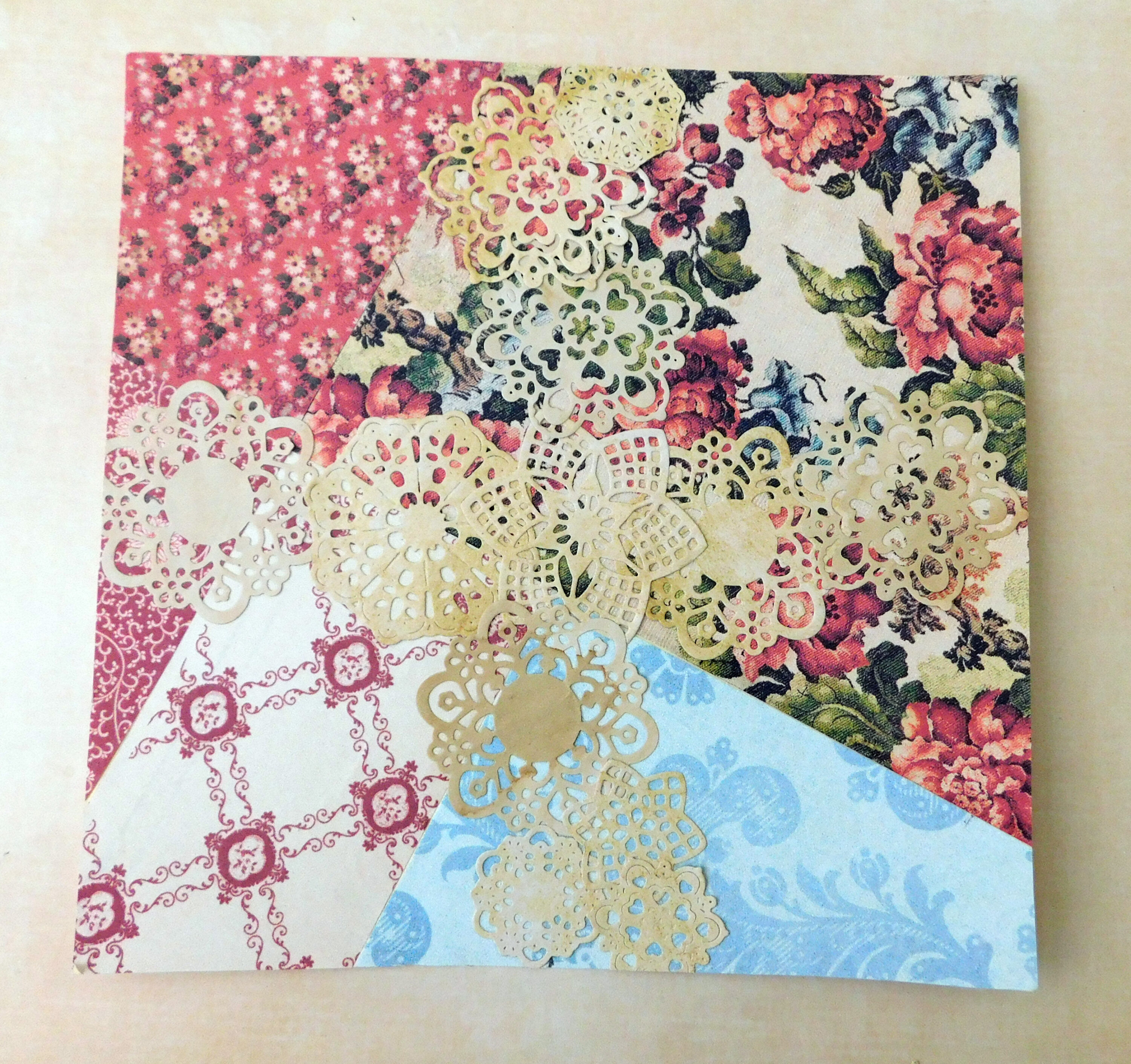 This combination uses all three techniques, pieced papers, 4 way layout and pressing. I got a new die that is perfect. I love it, just in time for Valentine's Day crafts. I know, I know, the die will show up a lot better on plain card stock, that's coming but when I try something new I like to explore possibility. I love these scraps from Vintage Journaler's Companion so I combined them.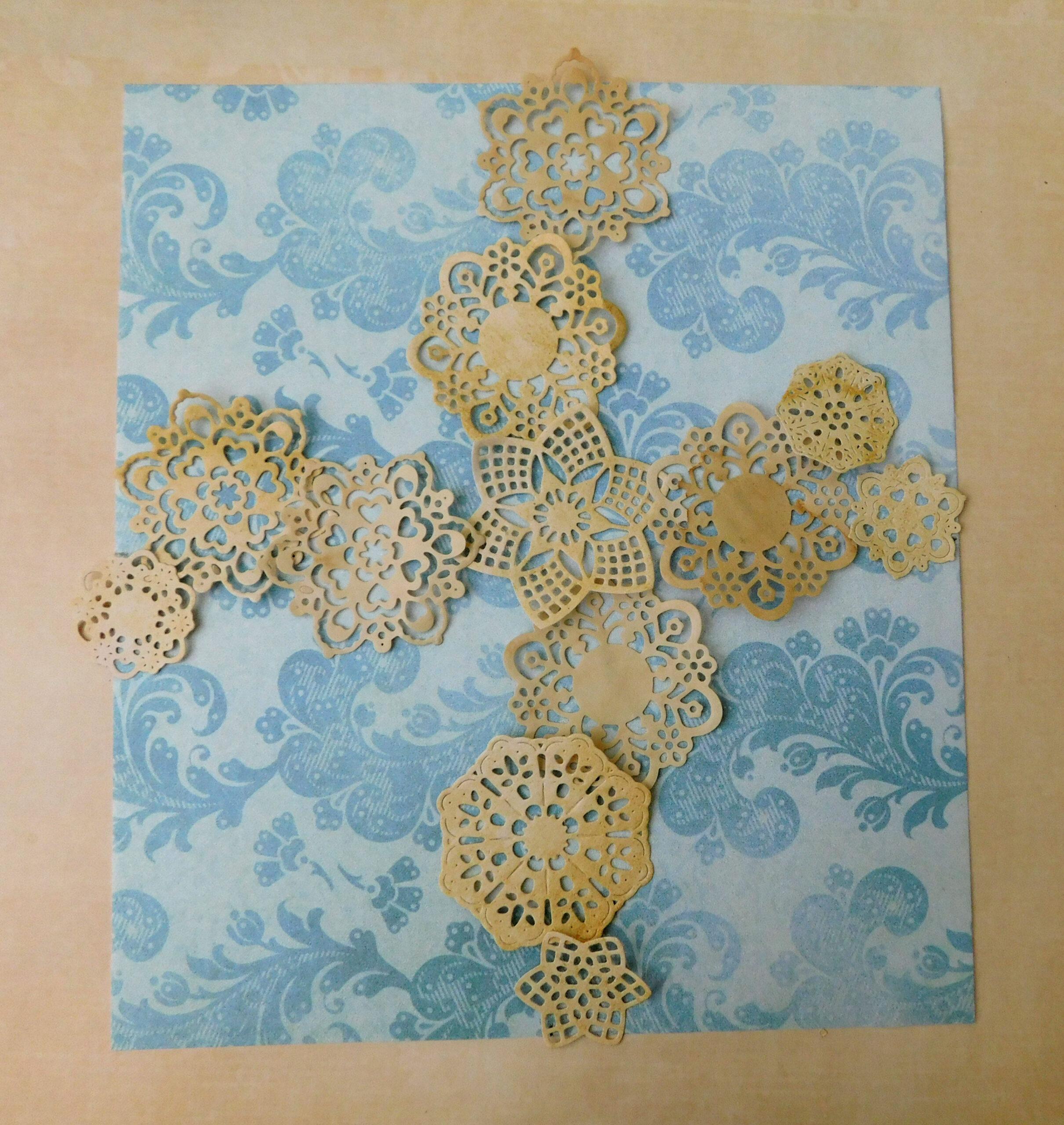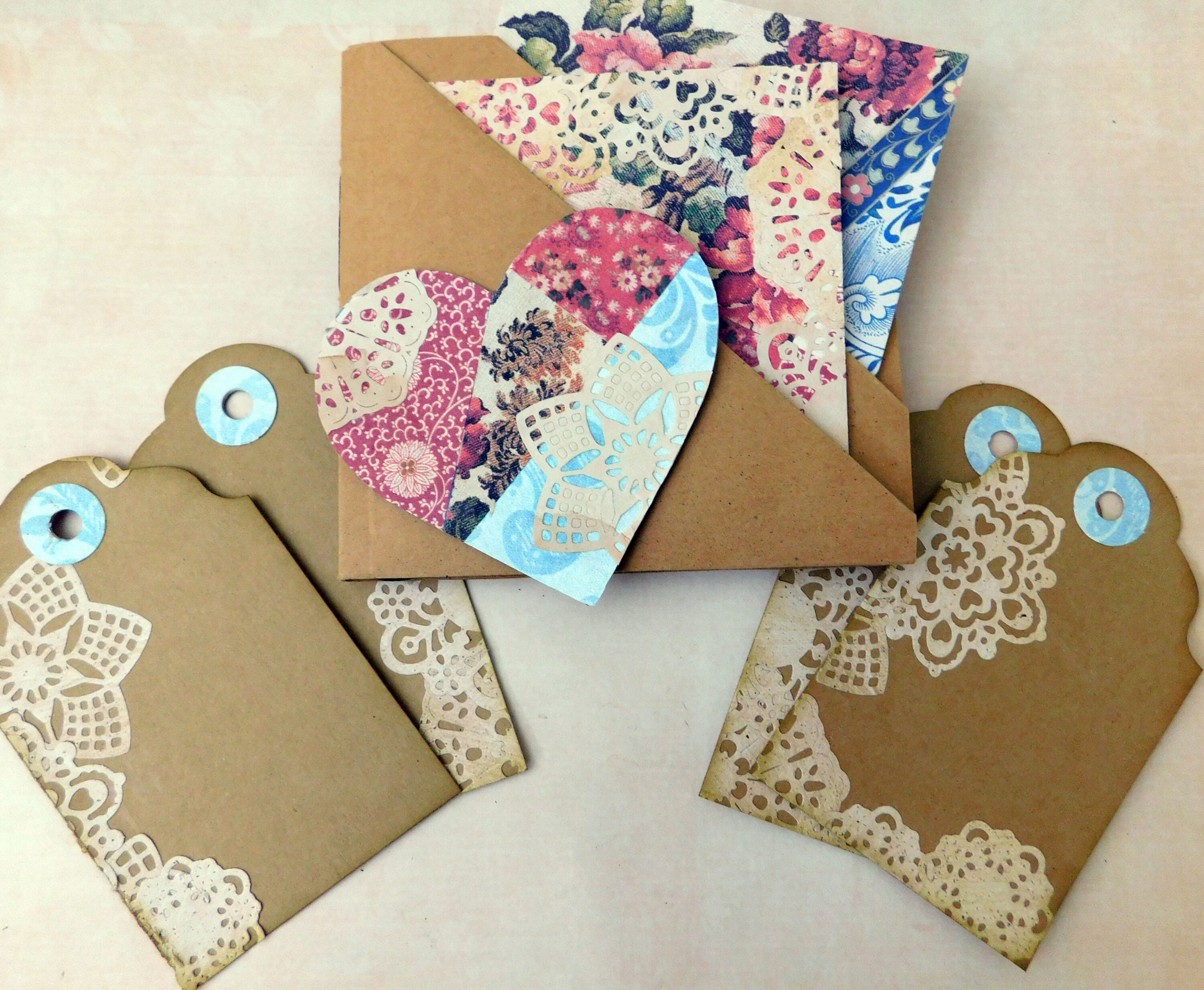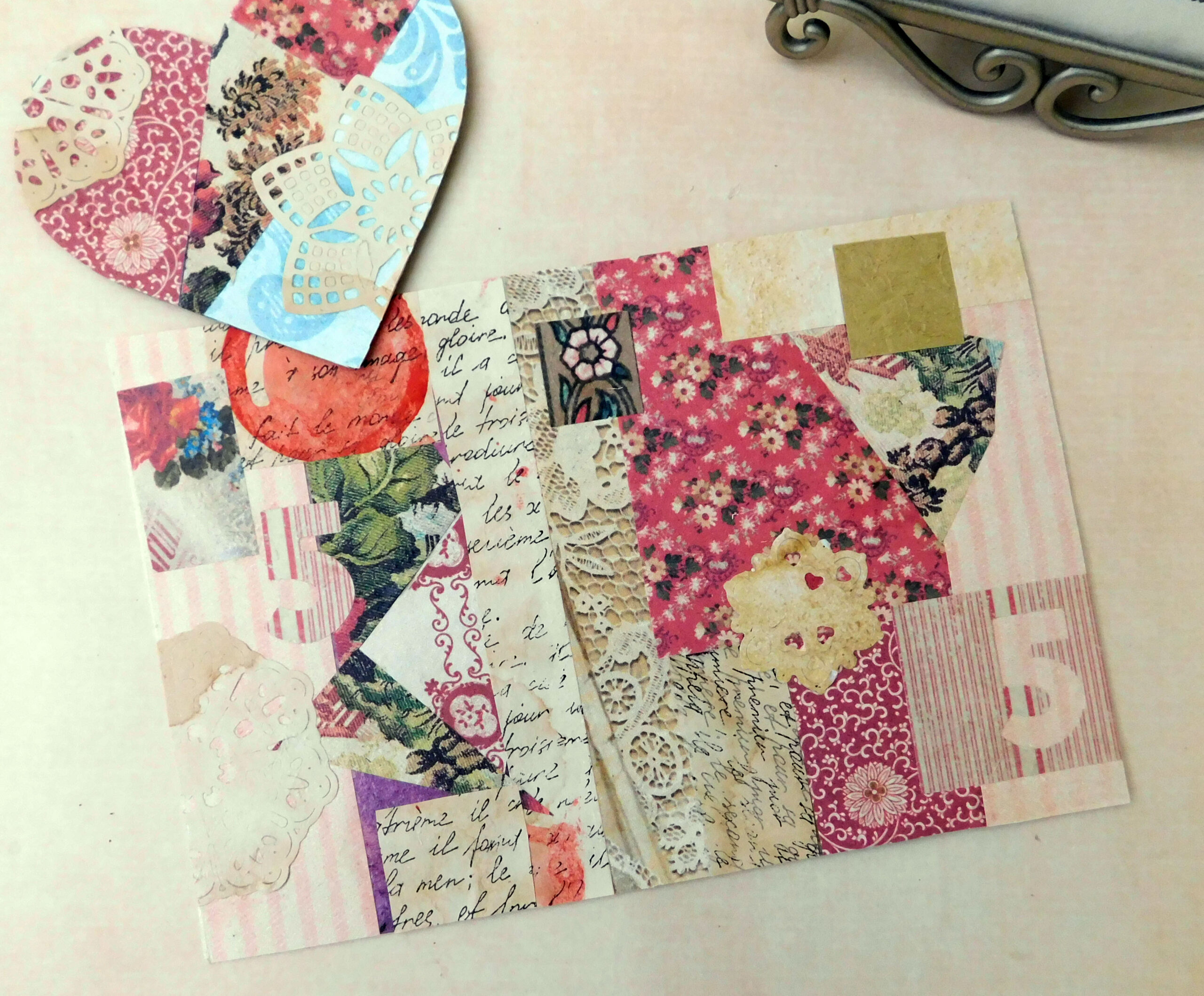 I found this technique to be so helpful that I decided to make it a series for one of my own once begun but never finished mini book projects.
In the end you can use it to mass make many different types of ephemera as you'll see in the video as I make tags and a heart to tuck in my mini book. The tiles can be layered, die cut or punched in to other shapes and become charms and dangled leaving me with almost zero scraps from these chosen papers. I think I got at least 15 pieces of ephemera to use in this book or for another project. They can be a base and embellished further if desired. Try more paper, stamping, add some words or stenciling. 
Along with a master board and a few special pieces I think this combination of mass making techniques will greatly speed up the process of completing any journal, large or small for a beginner journal maker who doesn't quite know where to begin and wants their completed project to look cohesive but unique. Also great for making card sets,  postcard sets, photo mats or even ATC sets. I wanted BoHo (fabric pattern inspiration) but of course follow your own style and see what you might come up with.
Happy paper crafting!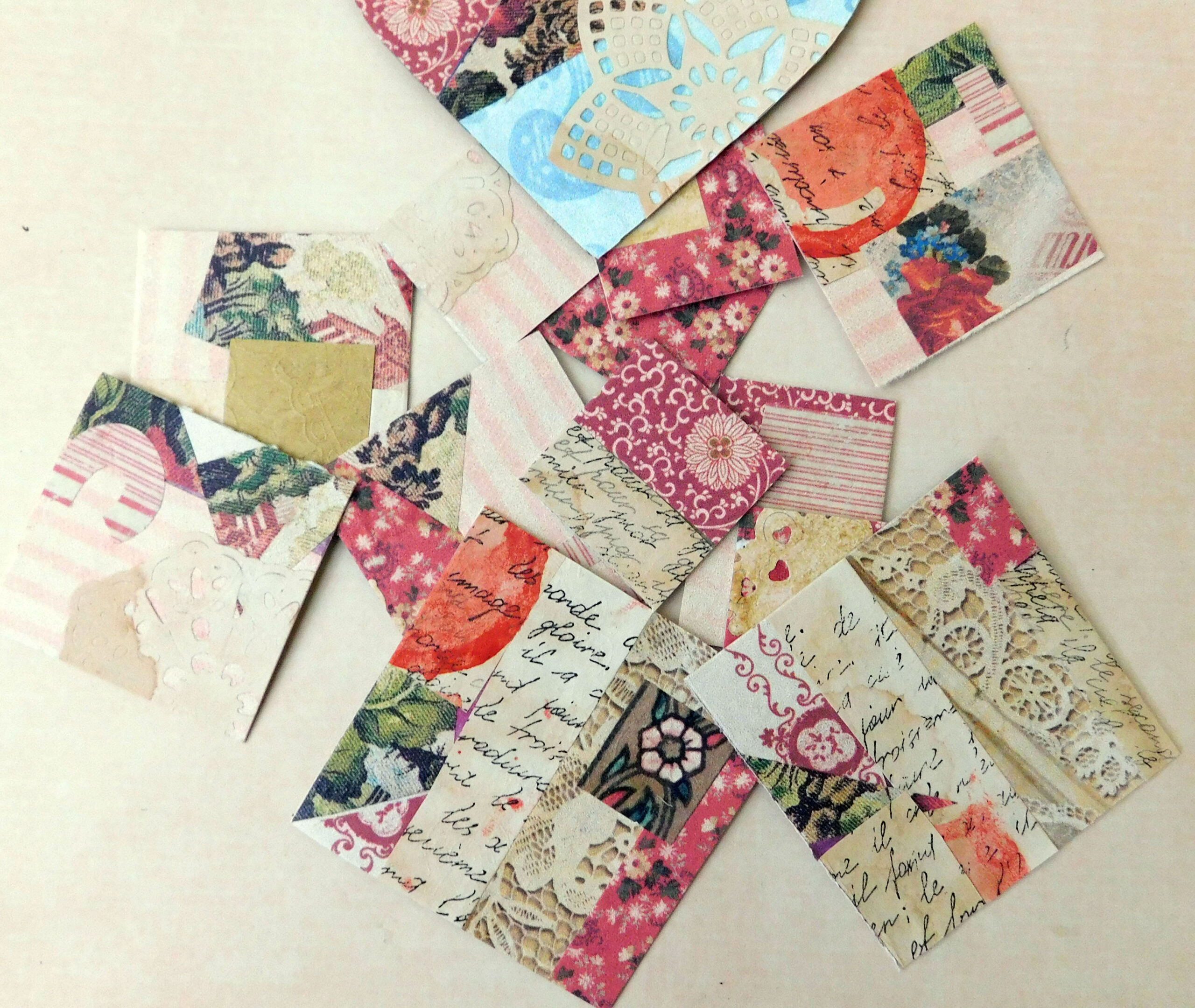 Ruth on 26 Nov, 2022
5 out of 5 stars
"The printables and ephemera are beautiful and fit the style I adore. Another artist mentioned Expresso Press and I am so happy I followed her referral".